Engaging Consumers requires an Integrated Marketing Strategy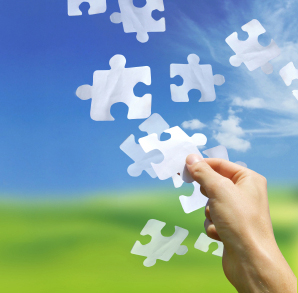 Companies used to go to market with one-way broadcast. It was GLARING self-promotion!
Today, marketing requires 2-way conversation.
Marketers are no longer in control of the flow of information; the advantage has shifted to the consumer. Consumers have access to more information than ever before, and they share it with each other.  Studies show they trust each other more than they trust most (if not all) established and recognizable brands.
In response to the shift in consumer behavior, your company website should function as the center of your marketing efforts.
As a result, your site will be social and engaging, the location where relationships with prospects and customers are developed and nurtured. This creates a byproduct called trust, which fosters a community of like-minded people. Once a community (digital tribe) gains momentum, brand impact can grow exponentially.
An integrated marketing solution is the best way to maximize customer value.
At Strategic Marketing Solutions, we work with you to develop your integrated marketing strategy through a process designed to help you engage consumers, build trust and confidence. The end result is a coordinated effort that delivers relevant, timely messages to all your stakeholders across all available touchpoints.
Have you integrated social into your website? What are your marketing challenges?
Strategic Marketing Solution's Integrated Marketing Formula
Strategic Marketing Solutions can help you get back to that human element, engaging your customers in a conversation that they want to be part of—across all channels of communication. Each of your customers has different channel preferences, and our integrated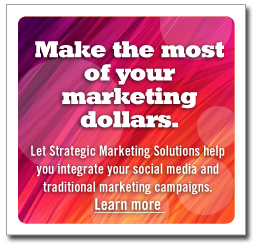 marketing approach will ensure you get the right message to your consumer at their preferred location, at the right time.
A positive brand impact exponentially increases consumer value through higher customer retention rates and greater cross-sell and up-sell opportunities. In addition, satisfied consumers can become advocates, benefiting companies through increased profitability.