Following are 10 important social media facts taken from recent reputable research. These facts have significant implications for marketers.
The marketplace is rapidly changing; changes in technology are facilitating changes in consumer behavior.  This change is becoming more universal; note that the 55+ age demographic is growing faster than any other demographic.
Fact: Social Networks & Blogs are still the top online destination – 23% of online time more than twice the #2 category, gaming. (Nielsen)
Fact: Nearly 2 in 5 social media users access these services from their mobile phones. (NM Incite study)
Fact: GPS is a highly valued feature on smartphones according to 56% of survey responders. (NM Incite Study)
Fact: The 55+ demographic experienced significant growth, with 109% growth (over last year) visiting social network sites from their mobile phones. 
Fact: Social media users are influencial; 60% indicate they create product and service reviews.
Chadwick Martin Bailey Studies
Fact: Over half of smartphone owners use them in retail stores to compare prices, find other store locations and check for discounts.
Fact: 52% of people plan to purchase a smartphone vs 29% regular cell phone over the next two years.
Fact: 37% of consumers are willing to allow brands to track them all the time in order to receive special deals.
Fact: Consumers are highly influenced by the reviews and recommendations of their social networks, and 27% of U.S. consumers access their social networks multiple times during the day.

Cone Marketing
Fact: Consumers go online for product/service information and customer reviews, but blogs are gaining traction.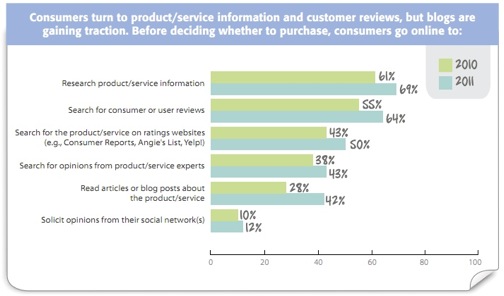 How should you respond?
Now it's more important than ever to ensure your site is visible to search engines. Increasingly marketing will need to adapt to changing consumer behaviors. Content creation is one of the best ways to be found by consumers.
If you aren't blogging, figure out a way to begin.  Increasingly consumers want content they can trust.  Don't just write about products find out how and why your customers consume your product or service and create relevant content.
Claim your local identity, it is simple and very effective.
Listen to what consumers are saying about your product or service.
Develop offers that can be redeemed quickly and are easily shared.
What else can you think of? I would like to hear your thoughts.