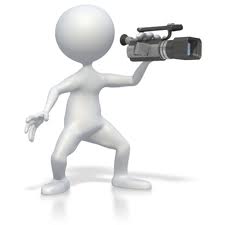 I just downloaded the eMarketer 2012 Top Digital Trends for 2012 report.
Social is coming of age, this year the emphasis will be understanding how to measure the impact of social media.
Previously efforts have been focused on collecting data across the various touchpoints in an organization; now attention will turn to making sense of the data in order to drive business outcomes.
The chart below provides a compelling view of a rapidly changing social environment fueled by adoption of technology and the evolution of content, primarily video.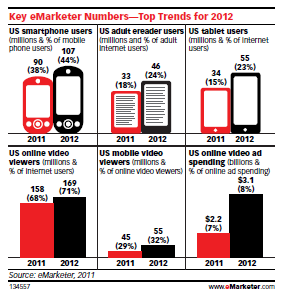 The report supports the notion many of us have been saying for some time, and that is the role of traditional interruptive advertising needs to be reevaluated.
Marketers are now increasingly in the role of publishers. With new trends comes new terminology, "magnetic content" is one such term. It means a brand has to create content that will engage consumers.  Coke has embraced this concept with their
liquid link strategy.
Brands are recognizing that while they may be the catalyst for conversations, increasingly consumers will become co-creators of content.
According to the report, consumers "consume media in increasingly diverse and fluid ways".  They expect this content to transfer seamlessly from device to device, platform to platform.
As you might expect, this new world offers many opportunities. At the same time, there are many risks.
Brands and businesses must embrace the role of social in marketing; however, for many this will require a new mind-set. This isn't just a new strategy or tactic. The new online consumer, sometimes called a prosumer, is often more empowered than the front-line staff they encounter. This has created a gap of opportunity for businesses and brands that are willing to explore different ways to meet the expectations of the new prosumer.
How should you respond?
First, Think like your customer.  If you haven't already, ask yourself a few questions like:
How do they find my product or service?
How do they use my product or service?
What are some of the questions they ask before, during and after they purchase?
Ask your front line staff these same questions.
Next, view your content from a smart phone or tablet or both. Then ask yourself some questions about the experience.  Questions like:
What was the navigation experience?
If you need to, optimize your site for mobile access.
Create content that addresses your customer's challenges.  For example, you could create guides that show different uses of your product or service or link to other resources that would be helpful. Put less emphasis on sell and more on service, be a resource.
Empower your employees to provide the best customer experience.  If you haven't already, create cross-functional teams to share information, establish a seamless flow of two-way communication.  Encourage feedback and collaboration.
Organizations will have to adapt to a rapidly changing landscape.  With the penetration of technology and social platforms these new trends are much more than fads.  Businesses that experiment and adapt will benefit in the long run.
What are other trends? Responses to these trends?