So you have an online presence, but why aren't you generating a desirable amount of traffic and leads? Like an uncharged cell phone, an un-optimized website isn't going to do you any good. Is your website working hard enough?
Delve into this 5-point checklist and make sure you're maximizing the success and reach of your website:
1. Does your site appeal to both first-time visitors and existing customers?
For first-time visitors: Does your homepage clearly and succinctly describe what your business is and how you help your customers?
For existing customers: Does your page include information, tools, and links that will address customer needs?
2. Do you have Calls To Action (CTAs) and offers to address the needs of leads at different stages of the sales cycle?
Are your CTAs positioned prominently? Are they graphics that stand out? Better to clash with your website color scheme than to blend-in and be camouflaged.
3. Does your content development plan concentrate on both quality and quantity?
What criteria are you using to produce quality content?

Is your content easy to read, concise and simplistic?
Is the format reader-friendly? Headings, short paragraphs, bullets and images are key.

Do you reach your audience through a blog or have a strategy in place to deliver content regularly?

Quantity is important—in general, the more pages found on your site by search engines, the better.
4. SEO. If your site isn't optimized, you risk getting lost amid the infinite sites on the www, and ranking low with search engines.
Are you using metatags to tell search engines what your web page is all about?
Are heading tags in place to guide search engine spiders and readers through your content?
5. Once you've been found, do you have systems in place to convert leads and bring them back to your site?
RSS Feed—a standard way to easily deliver content to visitors after they've left your site.
Conversion forms—collect contact information so you can convert site traffic into customers.
Is your site optimized, or does it need some attention? Just a few minor adjustments could make all the difference in traffic and lead volume.
If you determine your site requires more than just a few tweaks, a website redesign might be in order. But there are some things you must consider before investing your time and money. Check out the 10 questions to ask BEFORE redesigning your website before you invest any valuable resources.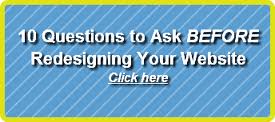 Photo by: mantasmagorical.