I am a card (application) carrying Starbucks consumer.  I like their coffee, especially the bold blend.  As a coffee drinking marketer, I also appreciate their marketing acumen. Smart marketing is no accident.
Here are 6 reasons Starbucks' marketing communications is so effective.

Reason #1: Consistent branding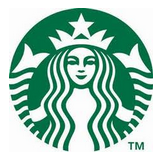 Starbucks has a brand personality that comes through in every communication.  No matter where you are in the world, the logo, storefront and store presence all have a familiar look and feel.  When I am in an unfamiliar place, I always notice when someone walks by carrying the distinctive coffee cup.  When driving on a highway, all I need to see is the logo and I know refreshment is nearby.
Reason #2: Web is the content hub
The web experience is tailored to the audience.  For example, my web experience acknowledges my rewards status, so anytime I go to the web site i can easily access my account, check on my rewards, find stores; all the things I want to do as a coffee consumer.  
Video is used to masterfully tell the story of ordinary people and, at the same time, ties in an appropriate brand message.  
Reason #3: Content is Integrated across channels
I've subscribed to email communications, so I regularly receive messages.  These messages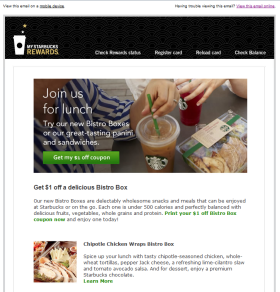 are appropriately paced, visually oriented, providing interesting information about the products Starbucks offers.  The content is focused on education and information, not promotion.  I am rewarded for frequent purchases and special occasions.
Starbucks has a presence in social media.  Although they have a large Twitter and Facebook audience,  I've noticed they have found their voice in these channels and it's appropriate and consistent with who they are as a brand.
Direct mail is the delivery mechanism for rewards.  Despite all their online prowess the old fashioned postcard is still the gift basket for delivering rewards benefits. I always look forward to the distinctive solid black postcard because I know it's treat time.
Reason #4: Mobile experience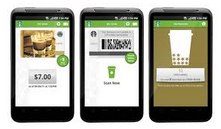 Starbucks is leading the way in the mobile experience, which makes complete sense when you consider their product.   At a basic level you can view their content from a smartphone. Email communications are optimized for the mobile experience, so it's easy to consume the information while you're on the go.
The Starbucks app is one of the more powerful features in their marketing arsenal.  Once the app is downloaded one can use the phone to pay for products, reload funds on a card, and find stores. In fact I seldom carry my physical gold card anymore, it isn't necessary.
Reason #5: Make it easy to share content
Each communication encourages readers to share content with friends.  Following best practices, Starbucks provides easy one-click options to ensure that sharing content is simple and easy to do; most important, they ask you to share.
Reason #6: Engage consumers
Starbucks has a separate presence for collecting ideas.  For some time, they have branded an experience around the idea of collaboration: the site is myideas.  Once again the web serves as the hub of the experience.  Here, one can submit and comment on different ideas.  Starbucks wisely provides feedback so consumers are able to see how the company uses consumer ideas and feedback.
Starbucks even has a twitter account for this initiative.
The real power of Starbucks' successful marketing communications strategy is their relevant content, seamlessly integrated across the different channels.  I have given them specific account information that is important to me and they use it accordingly.
What do you notice? I'd love to hear your observations. And more importantly, if your marketing communications strategy needs a tune-up, I'd love to discuss your needs. Click the button below if you'd like a FREE consultation.

Not ready to talk quite yet?  If you have a Web presence but aren't getting the most out of your internet marketing investment, Strategic Marketing Solutions can help you. Start with our 10 Must-Ask Questions before redesigning your website.