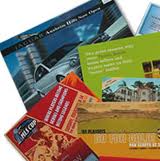 Even though today's marketing communications are more increasingly online, there are still times when direct mail is an effective channel, especially when it is integrated with other digital media. When one is in the thick of producing a direct mail campaign, it's easy to overlook some of the basic elements that are integral to success. So you might want to keep these six quick tips in mind as a reminder.
1) Select the right list. A crummy mail campaign sent to a good list can make money, but even brilliant mail sent to a bad list will fail every time.
2) Update your list. According to NCOALink, at least 15% of the average list becomes outdated every year.
3) Go bold. Choose a clear, bold headline and a color that pops for maximum notice.
4) Watch out for muletas. Muletas are the little red cloths that bullfighters use to distract the bull. As a marketer, you need to look for anything in your piece that will distract potential customers from your offer, message, or product.
5) Present a call to action and an offer. One of biggest mistakes is burying (or not including) a call to action. Tell your prospect exactly what you want him to do.
6) Be consistent and commit. Consumers rarely get multiple pieces from a business. Hit your prospects with different communications about the same thing, or with different products with the same look or feel, or both. This sort of persistence reinforces your presence and adds credibility to your brand.
With the cost of postage poised to go up yet again, are your direct mail campaigns yielding the best possible rate of return on your marketing investment? If you're concerned about it or just not sure about the results you're getting, give us a call at 804-968-5131 and let's talk about it.