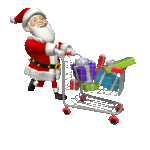 Smart phones are changing consumers' shopping behavior. Research indicates many consumers are using their smart phones as personal shopping assistants.  
When applying integrated strategies that include mobile marketing this holiday season, marketers create a win-win for both their business and consumers.
Here are 9 key stats (based on a mid-October Shopper Science Survey) that provide insight on how mobile marketing is changing consumers' shopping behavior.

48% of smart phone shoppers plan to use their phones for holiday shopping task

Key shopping behaviors, like product code scanning, are up 300%

57% of smart phone owners surveyed have used their phone to look up product information in the past 6 months

More than half (52%) compared prices

47% searched for coupons

43% have scanned product bar code or mobile 2D code

40% checked store inventory

49% have redeemed a mobile coupon

24% have made a purchase on their phone
Mobile behaviors are clearly aligned with bottom of the sales funnel behaviors.  
If you don't have a mobile strategy in place for the holiday shopping season, here are a few suggestions.
Make sure your web content is easily accessible from a smart phone.

Think about the buying experience from your consumer's perspective; for example, if they are likely to compare prices, provide as much information as possible.

Create location-based offers tailored for current customers and new prospects, offer different values.

Be sure your site is optimized for key search terms related to in-store behaviors. For example, think about phrases consumers might use to inquire about your product or service.

If you have a presence on social media, be sure you are listening for questions, complaints or suggestions.

If possible, allow consumers to check the status of inventory.
Implementing a few of these strategies can result in incremental income because when using their smart phone, consumers are typically in your store ready to buy your product or service…so do all you can to make it easy for them to buy.
What other ways can  you think of?