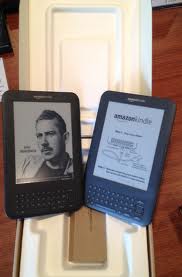 I love my Amazon Kindle, and I use it constantly even though I recently bought an iPad.  I received the Kindle as a gift in December of 2010.
Late last Fall, the Kindle started to lock up.  At first not very often, then it became more random and frequent. I searched the web and found several suggestions.  A couple were helpful and I thought the problem was resolved.
Recently the problem started to reoccur, this time it was almost impossible to reset the device.  I did more research and thought I had a software update issue.  This week I happened to be reading What's Your Purple Goldfish by Stan Phelps.  The book is about Lagniappe.  The meaning and idea behind the book is giving more.
In Stan's book, he identifies Amazon as an example of Lagniappe. So I decided to call Amazon and see if they could help me.
Laci took my call, and made my day.  First, I didn't have to press a half dozen buttons to get to the right person.  She was cheerful, empathetic and helpful.  During our call she was cordial, but still efficient.
She determined that the problem was the battery, and since I had the Kindle over a year it was out of warranty.  She immediately went to work requesting a replacement. When I expressed my appreciation for her attempt she quickly shot back "I am NOT requesting, I am demanding a replacement" she went on to explain that she, and by default Amazon, expect batteries to last much longer.
By the time our call was over, a replacement Kindle was on the way scheduled for two day delivery. Today I received the replacement right on time.
So what are my takeaways from this?
A great customer experience stands out and builds a brand.
Have a product or service you believe in, then stand behind it.  She was telling me about her Kindle Fire.
Culture makes a huge difference – Amazon hires well. Laci spoke positively about the company during our entire conversation.
Amazon trusts their customers – When I told Laci I hadn't dropped or otherwise abused my Kindle she believed me.
Provide clear direction – getting the replacement has been painless directions are clear, timely and consistent.
Set expectations, then deliver – I have received emails from at least three different staffers. All added value, no contradictions.
Although I regularly participate in #CXO, a Twitterchat about customer experience, most of the time this is the extent of my experience.  Stan's notion of Lagniappe is spot on; if you can provide a consistent positive experience, then you just might achieve differentiation by creating greater customer loyalty and stimulate some word of mouth promotion.