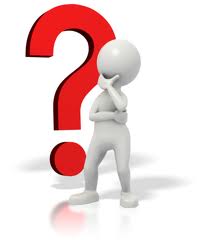 This post was originally written as a framing post for the #usguyschat. The information and questions posed are still relevant.
There is nothing to lose and everything to gain by proper inquiry. NT Wright
I had a surprising takeaway from our discussion on the topic of Big Data.  Toward the end of the chat Alan Berkson
stated that we don't ask good questions and therefore we often get mediocre outcomes. I decided to do some research on the topic to see if I could find the necessary ingredients for asking good questions.
Two works were recommended:
Leading with Questions by Michael Marquardt
Change Your Questions Change your Life by Marilee Adams
Necessary Skills
According to Marquardt two critical skills are necessary for asking good questions:
You must know what questions to ask.
You must know how to ask them.
Role of Culture
Of all the ingredients culture plays a huge role. Although I initially was thinking about corporate culture, I realize the ramifications of different global cultures can be significant when dealing with this topic.
Context is important, one must ask "What do I want my question to accomplish?"
If a culture is closed and autocratic questions are typically asked with the expectation of a specific answer.  In fact, questions may not really be considered questions.  In this type of culture leading questions are used to convey information and beliefs.  These type of organizations usually discourage questions, information is often hoarded, few people are willing to take risks.
In answer-driven organizations status quo is protected while curiosity and risk taking are almost nonexistent.
In an open culture questions are an invitation to challenge, encourage and engage all stakeholders. Effective questions accomplish their purpose and build relationships.
When questions are welcomed, assumptions challenged, and new ways to examine problems are in place then a learning organization is built.
What about your mindset?
Marilee Adams maintains we have one of two mindsets.  According to her work we are either learners or judgers. Learners tend to be curious and open. Leaders with this mindset tend to be optimistic and presuppose new possibilities, a hopeful future and sufficient resources.
Judgers on the other hand tend to be reactive.  They tend to focus on the past, not as a means of learning but to apportion praise or blame.  Judgers typically are more interested in assigning blame rather working with others to find solutions.  All to often judgers are involved in win~lose conversations.
Framing Questions
Questions are framed by the entire context that surrounds them.  Most effective questions come from a learning rather than a judging process.  Proper framing questions allow the leader to be seen as part of the process rather than an obstacle.
Steps in the Questioning Process
Marquardt outlines a five step process.  First, use an icebreaker to get the conversation going.  Second, set the stage for the conversation by explaining what you want to talk about.  Third ask what you want to ask.  Fourth, listen attentively to the answers.  Fifth, and most important, follow up.
Listening and Showing Interest in the Response
Be patient and don't interrupt someone responding to your questions.  Restate their answer or ask follow-up questions for clarification.
Invite Feedback and Debate
Create and atmosphere where stakeholders are encouraged to challenge assumptions and offer insights.  Too often more time is spend trying to mitigate risk or implement a particular political agenda.  Assume there are many potential answers.
Competitive Advantage?
In a world where the amount of available data is increasing by the second there is a noticable shortage of people who possess the unique combination of technical, analytic skills along with the ability to ask the appropriate questions.  There is an opportunity for those able to find the right people and create the appropriate learning environment where they can thrive.
Q1. What types of questions do you use to learn? e.g. Open ended questions.
Q2. Are there particular techniques that improve the way we ask questions?
Q3. Great questions define great leaders.  Do you believe this? Why?
Q4. How can questions help us make sense of all the data we have available?
Q5. What are the implications of the way different global cultures may ask questions?