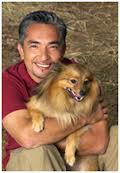 Here's my disclosure; I don't own a dog, but I love to watch The Dog Whisperer.  For me the show is much more than just getting dogs to behave.  Although Cesar is a dog behavior expert, he is a great deal more.  Each episode features one to three challenging cases for Cesar to address.  Each case is unique; the relationship between dog and owner is not working and Cesar is brought in to help fix the problem.
As Cesar solves a variety of problems each week, I have observed a couple of things.  While each situation is unique Cesar's approach is consistent and effective.  Here are a few keys I have learned from Cesar:
Attitude  Cesar is humble and transparent; a wise man who sees himself as a servant who is still learning.  His compassion and passion to help are unmistakable.  His calm assertive presence is powerful; it makes a difference in the lives of people and animals.
Ask then Listen  Cesar starts most sessions with "So, how can I help you guys?".  He doesn't prepare ahead of time; instead he chooses to have the owner articulate the challenge.
Diagnose From the moment he arrives, Cesar pays attention to many details and looks for clues.  He analyzes the environment looking for context, observes body language, and listens for tone and language.  He is a master at synthesizing many variables, identifying and prioritizing those that are critical to a solution.
Enlist  Cesar doesn't impose solutions.  He is kind but direct.  He uses terminology that is relevant to each individual and carefully explains that the solution will require changes in the owner's behavior.  He will not proceed until the owner is willing to own the problem and embrace the solution.
Patience – Whether the obstinate creature is dog or owner Cesar never seems to be in a hurry.  He is not afraid of repetition, and welcomes trouble as a valuable teaching moment.  We work hard to avoid problems because typically we don't think of these as teachable moments; in fact, most of the time they simply reinforce failure for most of us.  Cesar wants to observe these behaviors so they can be corrected.
Cesar knows a lot about dogs, he also knows a great deal about people.  I walk away from each episode with it a life lesson.  I never would have thought that I could learn so much about people by watching dog rehabilitation.
What do you think?