We are bombarded with insane amounts of information daily.  We can't escape it.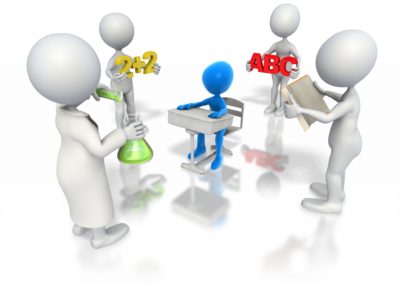 Whether it's the stack of mail that arrives in your postbox each afternoon, the email subscriptions that arrive in your inbox, the drive downtown with billboards flashing, the flyers left on your car, or the commercials that interrupt your television program, we are faced with a plethora of response stimuli in an incredibly short span of time.
In my recent post about seeking information, I encouraged you glean insight from your own personal methods of information seeking to think about ways that others may also seek out content.  Today I'd like you to take another self-exam of sort, but this time, meditate on your response to the mounds of information you are inundated with continuously.
Ever thought about how you "deal" with it?  What is your response?  Do you get excited when the inserts fall out of the newspaper and leave gobs of coupons at your feet…or are you overwhelmed by it?  Do you get distracted from your task-at-hand and immediately delve in when your inbox alerts you that one of the many e-newsletters you subscribe to has just been published?  Or do you decisively hit the delete button without another thought?  Or, do you leave it in your inbox, planning to partake at your regularly-scheduled newsletter-reading-time?
As you sit down at your desk for the day and let the wave of information inundate you, are you aware of how you process all of it?  Do you have a method to the way you receive and respond to content?  Or are you more in a reactionary mode?
Unless you live under a rock, you can't make it stop, and whether or not you realize it, you have already developed a habit of response.  Suffice it to say that there are a tremendous number of external factors at play in each of the decisions you make regarding your response to stimuli, but I'd like you to set aside the exceptions and try to find response patterns for how you typically react to the stream of content that crosses your path.
Evaluate your knee-jerk reactions when content is blasted at you.  These 8 questions will get you started:
What types of blog titles are you most likely to click on?
Is there a pattern to the types of tweets you are likely to retweet?
What subject lines in emails entice you to read further?
What types of Facebook interactions are you most likely to make a comment on?
What is the main motivator in getting you to become a fan of a Facebook page?
What makes you decide to tear into a mailing instead of chucking it before even a glance?
Do blank envelopes that appear more official/important…enticing you to engage?  Or does a line of clever teaser copy suck you in?
What motivates you to sign-up or opt-in for an e-newsletter?  Are you a pretty easy sell, likely to sign up for just about anything that appears relevant, or are you a "hard sell"?
Recognize the learning potential that exists just by being aware of the methods to your own madness.  Take the time to have a closer look at your own patterns of behavior and extrapolate from that the tendencies of others.
Now onto that self-exam…do you ever pause to analyze and learn from your own behavior and habits?