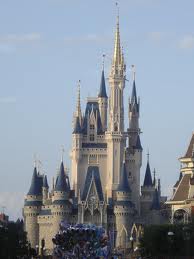 By delivering an unmatched customer experience, Disney has brought magic into lives for more than half a century.
I believe a dedication to family values and a customer-centric philosophy have contributed greatly to Disney's brand value success.
In 2010, The Walt Disney Company had an annual revenue of over U.S. $38 billion.
What contributes to the success of the Disney brand?
Disney Remains Committed to Stellar Customer Experiences for the Entire Family
It captures our hearts when companies foster family values and create a safe-haven for our children.   And Disney remains the frontrunner in just that: providing quality family entertainment and top-notch activities for the family to enjoy together.
Disney's most recent family-friendly venture is the acquisition of Togetherville, a social network for kids ages 10 and younger.

"Togetherville, essentially an age-appropriate, parent-monitored Facebook for kids, promises a safer, more secure environment, where parents can moderate who their children are connecting with. "
Whether or not a parent chooses to welcome their child into the social media realm, Disney's provision of this service infuses their brand into modern culture, enhancing relevancy to today's consumer.
Disney Parks Deliver the Ultimate Customer Experience
Disney is ultra customer-centric, on a mission to make dreams come true for their customers.
Just one visit to Disneyworld will clearly illustrate Disney's commitment to providing an excellent customer experience.  Here are just a few examples from a recent visit to demonstrate my point:
From the moment a consumer reaches out, a personalized Disney vacation plan awaits.  There are teams of happy folks and gobs of glossy materials and colorful videos to aid in planning "the" Disney Dream vacation.
From postcards and brochures to maps and luggage tags, multiple touchpoints excite the consumer months prior to the long-awaited trip.
From the smiles of employees at the diaper-changing stations to the popsicle vendor who gives away a treat for free, customer service is a dream at Disney Parks and resorts, a rare find for consumers in today's marketplace.

Quality is top-notch. Disney delivers—once you've arrived, you're in a world set apart.  Diana Freedman's article beautifully sums up the fantasy and magic that awaits.
We are still realizing the dreams of Roy and Walt Disney, long after their deaths.  By analyzing their commitment to the customer experience, we can learn a great deal from the Disney model.
Does your company deliver a "Super-cala-fragilistic-ex-be–ala-docious" customer experience?  In what ways?