Persona development can be compared to painting a portrait.  As an artist focuses on how to illustrate the features of his subject, a marketer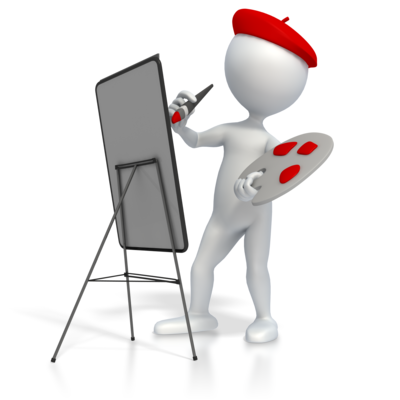 must learn to identify the attributes and characteristics that defines his buyers.
Last week I wrote a post defining personas.  This week I'll begin with some tips gleaned from this transcript, based on the webinar, "Optimizating Your Site for Maximum Lead Flow" presented by Tim Ash, President and CEO of SiteTuners.com, and Mike Volpe, VP of Marketing at HubSpot.  And I'll close with some examples of personas and practical application.
2 takeaways from the transcript:
1. In developing buyer personas, you have to get down to the nitty-gritty details. 
"I think it's really important to get personal and specific. You shouldn't have just a general idea. It's more important to actually get specific and narrow, and have a firm understanding of who these people are rather than just saying the high-level audience of, "Oh, well, our customer is a woman between 45 and 60," or something like that. I would actually get really specific even if that excludes some portions of the audience."
2. Don't be a persona perfectionist
"What's important is not necessarily that you get the persona 100 percent right, but if you can get it kind of 90 percent right. To me, having that ability, having that understanding of who that person is, will help you decide what content you should be producing, what content those people are more likely to share in social media, what content they're more likely to subscribe to, what things they're probably searching. Having a deeper understanding of who that person can be really, really helpful."
Ready for some application?  Take these examples…
In trying to attract residents to an assisted living facility, the director of marketing must identify the target audience.
The obvious target would be seniors above the minimum age set by the facility.  But from there, are you targeting active seniors, or those needing skilled nursing…or is it a combination?  Do you cater to residents who enjoy being more physically active (gardening opportunities, fitness facility) or those who may require more medical attention or physical care?
Meet Mary
Persona #1:  Mary, age 68, who lives by the clock and is a task-master at-heart, always with a checklist in her pocket striving to scratch all the items off her list every day.  She wakes up at 5:30am, drinks her grapefruit juice with a hard-boiled egg and an English muffin, before taking her poodle for a walk at 7:00am.  She volunteers at the local animal shelter and the church down the street is an extension of her home.  She is a member of the bridge club and has weekly luncheons with the red-hat lady group.  Being a widow, she is accountable to no one but herself, but she's in touch with her son every Wednesday evening.
Marketing to the persona of Mary, a copywriter might emphasize the assisted living facility's respect for maintaining the lifestyle a senior has become accustomed to at home.
Multiple Personas will be necessary as different target segments are identified.
Knowing that aging parents often have children involved in their circumstances, this assisted living facility might develop a persona for what the adult child of an aging parent looks like.
Are they parents of teens, pressed for time, or empty-nesters trying to find their new niche?  Are they career-centric or knee-deep in volunteer work, looking for a turnkey solution for their aging parents, or are they putting their parents' care at the top of the priority-list, aiming to be part of every last detail of care, requiring hand-holding and lots of information?
Meet Jack:
Persona #2: Jack, age 52, is married to Mary, an accountant who works 50-hour weeks.  Jack is a career-driven salesman and spends the majority of his day working out of his home-office.  He has 2 kids in college and the youngest is a junior in high-school.  While Jack and Mary are adjusting to life as semi-empty-nesters, their youngest child is very active in school and extracurricular involvement keeps the family busy.  Between career and family, Jack and Mary are having a hard time managing care for Jack's widowed aging mother.
Marketing to the persona of Jack, a creative director would highlight the assisted living facility's supportive and friendly staff, dedicated to helping out with every-last-detail of transitioning an aging parent to a new lifestyle for their golden years.
In closing, your customer personas should be the cornerstone on which your business strategy is built.  Accurately defining your buyer personas will put you well on your way to a winning marketing strategy.