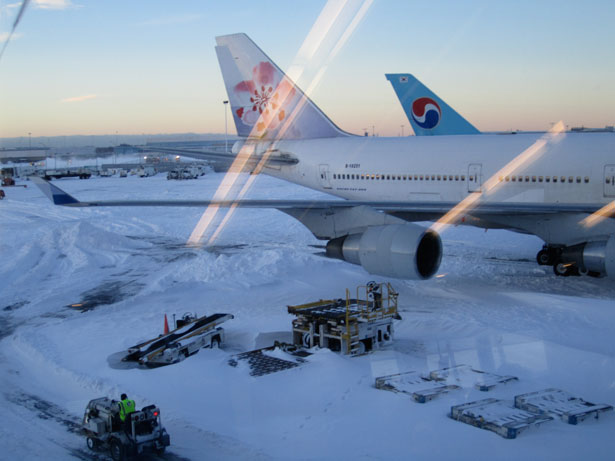 The nor'easter snowfall of 2010 was a major disruption, intruding on the schedules of so many.
Some disappointed travelers stranded in airports had no choice but to wait for days until airlines could accommodate them.
But for a few the outlook wasn't quite as bleak.
According to the New York Times, a pocket of savvy travelers, relying on their social media networks, were able to find an "ear" online through venues such as Twitter and Facebook.
Several were able to book new reservations, some were able to get flight and luggage information, and others had the satisfaction of having their complaints be heard. Though relief for these travelers was spotty at best, the ability of the airlines to communicate via their customers' channel of preference shows that corporations are rising to the level of current trends in customer experience management.
According to 1to1 Magazine, social media is one of the five Trends to Watch in 2011.  And being customer-centric is vital to survival.
To quote Mary Cook, Director of Contact Center Solutions at Varolii,"No matter what channel a customer wishes to communicate across—whether it be email, SMS, voice, social, chat, or a smoke signal—companies must be ready to support these multiple and mobile channels with the service levels expected by consumers today…and be personalized."
New mobile technologies combined with social media are molding customers to be expectant that in just about any circumstance there is a network of folks at their fingertips to help.
And for survival in the marketplace, it is critical that companies rise to the occasion, employing multi-channel customer experience strategies.
But here's a bit of encouragement.  According to a Harris Interactive study, in the B2C arena, 85% of consumers would pay more for better customer service and 10% would pay a whopping 25% more!  With this tidbit in mind, you might want to examine the experience of your customer base.
Here are a few questions to get you started:
Do you have strategies in place to continuously develop Twitter "followers" and Facebook "friends"?
Have you thought about the role of employee involvement in your social media endeavors, perhaps tweeting when they sign on in the morning and sign out at the end of the day?
Are you actively "listening?"  It's not hard with free online tools such as socialmention.com and howsociable.com to monitor and get involved in conversations surrounding your brand.
Have you built an internal network?  Is someone accountable to listen and respond—rapidly—when a customer reaches out?
Are you poised to advise lagging prospects or customers to join you in the social media space?  Are you able to guide them in setting up their social media strategies?
Word-of-mouth is on steroids now that social media is alive, and companies must realize they can't afford to turn a deaf ear to customers.  Companies that have an active social media presence, tuned-in and ready to respond, will demonstrate their respect for the customer experience.
Related Articles:
Customer Service: Where Social Media's Rubber Meets the Road http://is.gd/rw2oTG
Customer Experience Trends Engraved in Social Media Channels http://www.customerthink.com/blog/customer_experience_trends_engraved_in_social_media_channels