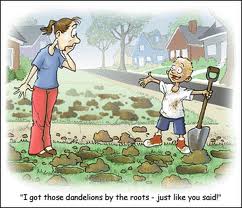 Don't let this illustration parallel your social media marketing efforts.
Just like the old adage, "there are many ways to skin a cat," there are many ways to approach your social media marketing.  Having a clear course of action is critical to avoiding the mess and pitfalls of moving forward prematurely.
Econsultancy's 10 Common Social Media Mistakes points out some common snafoos experienced by the most well-intentioned marketers.
Three that caught my attention:
Pretending that social media is free. Signing up for a Twitter account and Facebook Page, for instance, may not cost any money, but managing them (and managing them well) doesn't magically happen without an investment that can be quantified in dollars and cents. Social media will always require somebody's time and may require that certain corporate resources be allocated differently. Businesses can't ignore these costs when planning their social media strategies and evaluating what they're delivering.
Falling off the wagon. A social media effort is easy to start, but it can be a challenge to keep going. In short, social media is a journey, not a destination. Businesses that aren't prepared for the long haul are far more likely to give up. That's not a good thing because social media is a party and the other partygoers (your customers, competitors, etc.) are likely to notice if you pass out.
Publishing first, thinking later. In the world of social media, everything you say can and will be held against you. Unfortunately, the real-time nature of many social media websites encourages a 'publish first, think later' dynamic. Companies have far too much to lose, however, and need to ensure that what's being published is accurate, honest and in line with the company's values. Sometimes, it's better not to publish.
Avoid these types of mistakes and maintain credibility by being intentional about a strategy for your social media marketing.
Be deliberate and take the time to consider your social media marketing efforts. Develop a plan before you jump in feet-first.  Or, if you've already taken the plunge, double-check that you're on a solid course.
Ready to get started now?  Download a guide to help you develop your social media strategy.  It details four phases and it'll provide insight and fodder to guide your strategic thinking and get you on course to developing your very own social media plan.