With all the emphasis lately on digital, mobile, social, not to mention all the new gadgets, tools and networks, you may be thinking, "E-mail? Been there, done that, better to focus my attention elsewhere."
But, let me remind you that e-mail's ROI cannot be matched.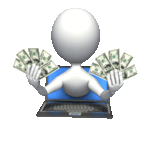 Email is King of ROI.  Bringing in $40.56 for every $1 spent (DMA), email is a winning contender in the marketing mix. Compared to catalog at $7.30, Search at $22.24, Internet Display at $19.72 and Mobile at $10.51, email marketing is nothin' to sneeze at!
The most important factor in email marketing: (quite obvious) make sure your email gets read. No matter how many best practices you employ, if you can't get folks to open and read it, your email marketing efforts are futile.
So here are 5 e-mail marketing best practices to employ so your emails will get attention:
Use Incentives to Increase Open Rates: When you include an incentive in your subject line, you can increase open rates by as much as 50%. "Free shipping when you spend $25 or more" and "Receive a free iPod with demo" are examples of good, incentive-focused subject lines. see more e-mail marketing lead generation tips by Pamela Vaughan.
Don't fail to consider the "from" line. Determining "who" the email is from is a huge determinant in filtering which emails are time-worthy. So, if you have a recognizable brand, you'll more than likely want to tout it.
Dole out tons of care when crafting the "subject" line.  Subject lines need to be compelling enough to grab interest, without being overpromising or giving away the farm.  When in doubt: test, test, test.
Be relevant.  Not only in terms of making sure you're hitting your target market, but also in terms of seasonality.  10 Holiday Email Marketing Tips points out that in 2011 holiday spending is predicted to be strong and is a great example of how timeliness and targeting is key to capturing the attention of your email audience.
Don't neglect your mobile audience. Is your business tuned-in to the irreversible trend of mobile marketing, or are you riding the familiar for as long as you possibly can?  Smartphone penetration will reach 38% of mobile users and 28.8% of the overall population by the end of this year, according to new eMarketer data. The number of smartphone users is set to increase 49.6% this year to 90.1 million.
What e-mail marketing practices have you found successful?