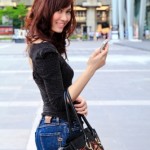 Consumers have choices and alternatives today that we probably classified as science fiction a few short years ago, as is evidenced by the options provided by Amazon or Zappos.
Amazon has a host of features and products one can access from apps or their website using any smart device or computer. Daily emails arrive announcing local deals tailored to my specific geographic location with products selected based on my preferences.
Image courtesy of nuchylee/freedigitalphotos.net
Recently Amazon announced with (no small fanfare) that they are experimenting with close to real time product delivery using unmanned drones.
It's no secret that the Holy Grail of marketing has always been delivering the right product at the right time using the right channel. By using data and the Internet, the ability to achieve this objective would seem to be closer than ever. When you look at the research, however, the data tells a different story.
Changing Landscape
The proliferation of smart devices continues to increase; we are well past the tipping point. The growth is occurring in just about every age group, with older segments now experiencing more rapid growth.
Consider some of these stats from the Pew Internet & American Life study:
91% of Americans now own a cell phone
63% of cell phone owners go online using their phones
73% of online adults use a social networking site of some kind
By 2014 emarketer estimates the penetration rate for smartphones will be 80% and 64% for tablets.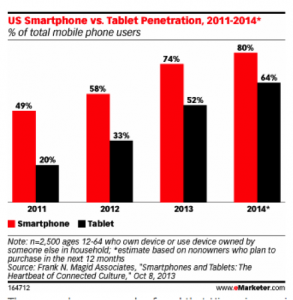 A Customer-Centric Approach
Traditionally, most marketing consisted of brands describing their product, service features or benefits and then touting how they are better than their competitors. Hannah Grove, Chief Marketing Officer at State Street Corporation in Boston calls this a cathedral approach.
A customer-centric focus requires a different mindset and a customer-centric organizational culture. Empowered consumers want to deal with people not organizations. Brands, like Lowes and Apple understand that empowering associates is the foundation of delivering a customer experience that is remarkable, one that differentiates from the competition.
Brands that help their customers find solutions by consistently delivering relevant products and services designed to offer utility will thrive in the new landscape.
Gallup has analyzed business results and determined that fully engaged customers provide a 23% premium over average customers in share of wallet, profitability, revenue and relationship growth.
Most business owners I talk to tell me they are customer-centric. After I ask a few questions, however, it's apparent their marketing approach is transaction based.
A Different Mindset
The traditional marketing approach has fostered a transactional mindset. As a result most marketers tend to focus their efforts on acquiring clients and on selling products or services instead of building environments that will attract and create loyal customers.
By shifting the focus to helping consumers deal with their challenges and goals, the result is a more engaging and compelling experience for customers and associates. In fact, part of helping customers with their challenges is engaging employees.
Studies confirm that organizations with engaged employees will deliver customer experiences that are differentiating and profitable.
Getting to Know the Customer
Delivering a relevant and consistent experience to hyper-connected consumers in an environment that constantly changes require engaged and connected associates. Empowered consumers tend to reward brands that listen and adapt to changing needs and conditions.
Brands that study their customer's behaviors, listen to feedback from all stakeholders, and pay attention to the broader context of options available will soon discover they understand more about important motivators that inform consumer behaviors.
More importantly, these brands realize consumers face different challenges and are motivated by different factors.
Creating Personae
A persona is a useful and practical technique for sharing detailed information about customers. This technique allows marketers to add personality to their customer segments.
Here is why I feel they are essential
If you are interested in some examples I included a few in this post. http://www.strategicdriven.com/marketing-insights-blog/developing-personas-is-critical-to-business-success/
What Does Customer Experience Marketing Look Like?
Lowes is creating an engaging customer experience, you can read more here.
They thought about people like me. Personally I have always found their stores daunting. Each visit usually requires a couple of chats with associates so I can find where things are located.
Their new app lets me create my list then it connects to my local store so that I know where to find the item in the store when I arrive.
What's most impressive? They have thought about the entire experience, not just the app. Whether educational emails or how-to videos, there is useful content that is available when and where I choose to access it.
What's Next?
Stay tuned for more customer experience content. I'll be talking about the path to purchase, the seamless customer experience and the Raving Fan Plan I am currently working on.
Can you think of other examples?