Marketing Utility
Recently I noticed an email from Marriott touting their new mobile check-in. I am a Marriott Rewards member so I receive emails and offers all the time. This one caught my attention because it had an appealing subject line:
Introducing: Mobile Check-In Exclusively at Marriott Hotels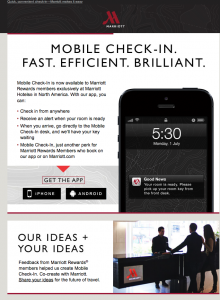 Frankly I don't travel a great deal; however, if you travel at all the idea of checking in remotely, receiving an alert when your room is ready, and being able to bypass the usual check-in routine is quite appealing.
Marriott Mobility
I love the term mobility because it implies context beyond a particular technology. Sure we are talking about an app, but the app has been created because Marriott has been listening to feedback from their members.
While most of us cringe when receiving meaningless marketing messages, we welcome alerts that provided valuable information, like my room is ready!
The Power of Marketing Utility
Increasingly companies that create and sustain useful relationships will enjoy a competitive advantage. Here are my best practice observations:
Listen to your customers; ask them for feedback then act on it.
Figure out ways to reduce friction, make it easier for your customers to use your products or services.
Keep your customers informed, let them know their feedback matters.
Use multiple platforms when communicating, in this instance I found out about the app from an email.
Continue to invite participation and sharing.
Communicate using simple, clear language and visuals.
Respect your customer's time.
Ultimate Marketing Utility
The real test of marketing utility is the execution and implementation. I can't stress this point enough. Marriott has raised my expectations with this offering. Capitalizing on this will require flawless implementation.
I expect Marriott has made their staff aware of this offering. Multiple functions must collaborate in a timely fashion to make this work. Establishing and monitoring benchmarks is essential in order for customers to reap the benefits.
You don't have to be Marriott
Any business can create value for their customers by creating a culture that embraces the challenge of delivering the best experience possible by listening, learning and adapting to evolving needs.