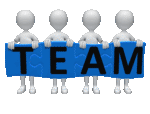 This blog post was created as the framing post  for the weekly #usguyschat that I co-moderate with Ken Rosen. Each Monday at 3 PM EDT we discuss a variety of marketing, social media and general interest topics.
This week (10/29/12) the topic focus was collaboration and leadership.  It was inspired by the Strategy + Business article Four Traits of Collaborative Leaders published September 3, 2012.
The article extracts content from The Collaboration Imperative, written by two Cisco employees Ron Ricci and Carl Wiese. The authors argue that collaboration has been necessary as long as humans have existed; however, digital technology has changed everything by removing friction and empowering small groups.
The Role of corporate silos
Even with the aid of technology, there are still failures in collaboration, driven by many factors like reaching across department silos, overcoming legacy systems, bureaucracies and cultures that attempt collaboration often as a last resort.Many organizations have been built with a command and control structure that views controlling information as a source of power, often rewarding or encouraging internal competition.
A culture of collaboration is key.
Creating a culture where collaboration can become a competitive advantage is a significant challenge, requiring intentional leadership.
The authors maintain that leaders have to model behaviors that reflect the way they want employees to behave. This type of leadership is necessary to address and change the types of behavior that slow organizations down. Leaders must inspire change in mindset and behavior.
Four leadership traits of highly collaborative leaders.
According to the book, highly collaborative leaders share four leadership traits:
Focus on authentic leadership and eschew passive aggressiveness
Relentlessly pursue transparent decision making
View resources as instruments of action, not as possessions
Codify the relationship between decision rights, accountability and rewards
In addition to the traits identified above, every Cisco employee is measured by peers and their managers on a collaboration factor. The result directly impacts how they are rated and compensated. There are other factors that measure how well employees perform collectively.Collaborative cultures must foster, then reward, teamwork. Organizations must balance individual performance and contribution to collective outcomes.
Five diagnostic questions to ask about leadership and collaboration.
Q1 What makes collaboration so hard?
Q2 How does digital technology create a need for collaboration?
Q2A What digital technologies help to create a collaboration toolkit?
Q3 How can collaboration be a competitive advantage?
Q4 Why is leadership necessary to foster collaboration?
Q5 How would you instill a collaborative culture in your organization?