Search Engine Optimization basics
Search engine optimization practices are continually evolving. Search engines are refining algorithms in order to deliver relevant results. Marketers are trying to understand the algorithms in an effort to ensure their content is prominently displayed in the results.
In the beginning, key words were extremely important; however, marketers began to stuff sites with popular but irrelevant key words, resulting in meaningless search results.
Local SEO
With the increasing penetration of mobile devices, search engines now give more weight to local factors, recognizing an increasing number of searches are seeking information while on-the-go.
Now, search engine optimization basics emphasize practical information like business hours, location, contact information. Businesses  need to ensure their information is accurate and easily available. I wrote about this here.
The Power of Review – Social Search
Now search engines are increasingly giving weight to customer reviews, and the more reviews the better. Today's consumers have a host of ways to provide feedback regarding the quality of products and services.
To capitalize on this behavior, marketers are going a step further by inviting consumers to provide input and feedback within their marketing apps.
Customer Feedback Systems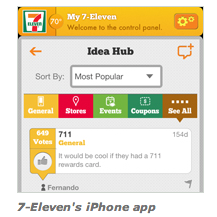 Yelp, the popular social rating site now allows consumers to conveniently rate their experiences directly from the smartphone app. 7-eleven has integrated an idea hub directly into their app.
The idea hub has been designed with the mobile experience in mind. By adding a voting feature, 7-eleven is able to determine the popularity of the idea submissions.
Customer Feedback Management
Paying attention to customer feedback is always a good idea. Now the customer experience bar has been raised higher. Smart brands know that harnessing customer feedback is a valuable way to monitor satisfaction and capture ideas for enhancements or even new products.
Equally important, marketers must ensure that customer feedback is properly shared within the organization so any issues or ideas can be quickly acknowledged and, where appropriate, addressed.
How do you monitor and distribute customer feedback?