"Social media accounts for one out of every six minutes spent online in US." (Journalism.co.uk)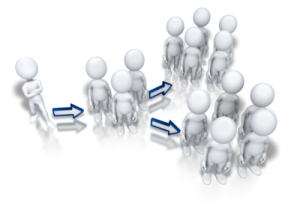 Even if you're not engaged in the world of Facebook, Twitter, Linked In, Google +, or the like, most likely your employees are.
Should you allow employees access to social media while at work? We think so.
Even if you're not heavily vested in the social media realm, the shift from broadcast toward conversation calls for a fundamental shift in the way we do business.
Employees who feel empowered to respond and can relate are well-poised to manage consumers' information access regarding your business.
Internal sharing and communication are key in preparing internal constituents to be social media gatekeepers, but the benefits to your company can be exponential.
Your employees may prove to be a huge asset to your social media efforts. Employees can be your biggest advocates.  And when employees have something positive to say about their employer, it speaks volumes, generating goodwill and loyalty towards the business.
Of course, it'll be obvious if it's an employee's duty to tout the business…just like it's usually pretty obvious when communications are organic (i.e. originate solely from the genuine interest or motivation of the writer).
And for those less-than-desirable instances where you have a less-than-happy employee, making sure you have social media policy in place to thwart any negativity is an imperative.
So, have you developed social media policy for your organization? If not, you should strongly consider it. Developing social media guidelines will eliminate employee confusion, making expectations clear and reducing the likelihood of an adverse event.
In The Anatomy of a Social Media Policy, Social Media Explorer outlines 8 important elements of social media policy.  I've summed them up here:
State who is approved to speak on behalf of the company.
Identify who is allowed to create company social media accounts.
Set boundaries for personal content.
Provide guidelines on how to integrate company information (if at all) into their social media chatter.
Address if it's acceptable for employees to amplify company communications via their social media accounts.
State any content that is strictly prohibited to discuss.
State who employees should notify in instances where company-related social media banter is in question.
Emphasize the importance of professionalism and good judgement in social media practice.
A comprehensive social media policy is important. With the seemingly constant onslaught of new social media tools and applications, not only can developing social media policy be overwhelming, but making sure it is comprehensive, covering all bases, could prove challenging.
Think about it…you've got blogs, Facebook, Twitter, Linked In, YouTube, Google+…all different networks with varying implications.  How to Write a Social Media Policy provides a segmented list of policies that companies should consider.
As you develop your social media guidelines, there are plenty of resources out there to model.  For example, check out the employee policy examples here.
What have you learned about writing social media policy?