Mobile offers exciting opportunity for businesses of all sizes and continues to change the way we do business.
Did you know that there are more mobile phones on the planet than there are TVs?  9 Amazing Mobile Marketing Statistics Every Marketer Should know is full of interesting facts about mobile behavior.  Mobile is here to stay, and head-in-the-sanders will be left to eat the dust.
Disney relies on Mobile to Revive Gaming Business
Corporations like Disney are working to capitalize on the ever-increasing mobile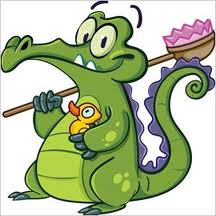 audience.  Disney Mobile general manager Bart Decrem says mobile devices are becoming central to kids' lives and Disney wants to make sure it is there.
Now live in the app store, "Where's My Water", Disney Mobile's new 99 cent iphone game, debuts mobile game character Swampy.   Decrem says one goal of the launch is to incubate new characters that can cross over into other Disney business units like movies and merchandise.
The focus on mobile games, rather than console games, is part of what Disney hopes aids the turnaround for their fledgling interactive unit.  Expensive forays into making video games for consoles such as the Xbox and PlayStation 3 have resulted in big losses for Disney's interactive unit.
Decrem said mobile games take up to a dozen people about half a year to create. That's far less expensive than console games, which can take hundreds of programmers two to three years to finish.
Small Businesses, what does this mean for you?
Have you considered mobile applications for your marketing mix, or are you in the mindset that only the big dogs like Disney can successfully implement in the mobile arena?
"With more and more smartphone users accessing the Internet to research and purchase products and services, it's becoming increasingly vital for small businesses to develop a strong mobile web presence."
There are a variety of solutions that allow small businesses to develop a mobile web presence.  For example, I just read this week that AT&T has a new solution that allows small businesses to develop a mobile presence (for as low as $12 a month), and create their own web-site with an easy-to-use Do-It-Yourself tool and auto-create a mobile version that is compatible and clearly viewed with smartphones.
Check out Mobile App Development: 10 Tips for Small Business Owners for tips on how to maximize your mobile potential.
Is there an area of your business that's suffering that, like Disney, mobile could prove to be your knight in shining armor?