Why Mobile Users Unsubscribe
According to a recent Vibes report, 69% of mobile phone users and 86% of "showroomers" indicated that too many messages or updates caused them to unsubscribe.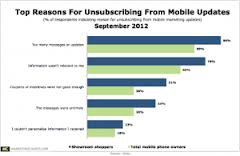 Showrooming is a term used to describe consumers who use a retail location to view products but not as a place to purchase them.
Before you dismiss the showrooming segment altogether, let's look a little deeper.
All Mobile Users Are Not Created Equally
I doubt that any marketer would argue with the fact while consumers are different, there are also similarities; it's why we create segmentation strategies.
Before we talk about the differences between showroomers and mobile phone users, let's look at what they have in common.
Marketers are Creating Mobile Users Overload
In a survey by Upstream, two thirds of US and UK consumers complained they received too many promotions and ads from brands. The survey revealed that 55% of these consumers did not want to be targeted more than once a month.
Basically marketers do what marketers have always done, they send stuff, lots of stuff. With the increasing noise and clutter, most of us are tempted to do more–not less–to reach our audience. We worry, with some justification, that if we are silent, we'll lose our customers to other vociferous brands.
A Strongmail survey found that 65% of US smartphone owners were open to weekly email promotions on their device. Use available information (like this), in conjunction with insights gleaned from your customer activity, to manage the pulse of your communication stream.
Taking Advantage of Showrooming Behavior
Most marketers have a negative view of showrooming behavior, especially those in the retail space. While this particular behavior may not be fair, it isn't going to go away. So how can you take advantage of this behavior?
If you have both an online and offline presence, make sure your strategies align, knowing that consumers will probably be accessing your online presence from within your store. In fact, you should encourage it, because if you don't, they will simply check out your competitors.
Make sure your online presence helps consumers find and even compare products and services; use this opportunity to provide a digital sales associate.
A Vibe study found that showrooming shoppers are significantly more engaged in marketing activities than mobile phone users in general. In fact 67% of showroom shoppers subscribe to emails from favorite brands and retailers compared to 47% of overall responders.
51% of showroom shoppers download applications versus 27% of respondents overall.
Showroom shoppers are far more likely to share a location (50% vs  34%) or "check-in" if offered a deal (18% vs 12%).
If you have a database and track where consumers purchase, identify those consumers who primarily purchase through your online channel. Track promotions that are offered to online purchases, finally ask. It's simple enough to include a one question survey at or near a transaction.  Ask something like "Do you prefer to purchase at a location or online?" or some version of this question.
Identifying showrooming consumers will allow you to tailor a customer experience that will be relevant for them and profitable for you.
Sound Mobile Marketing Practices
All marketers will benefit by practicing the following:
Don't overcommunicate.

Tempting as it may be to send out another message, carefully monitor the performance of these communications. Ask questions like:What are the responses compared to the unsubscribes?
Allow consumers to control the frequency and type of communications they want to receive.

Use editorial calendars to help guide communications strategies. Make each communication work harder to bring value and even some entertainment to the recipient.
Give recipients an opportunity to communicate their preferences. The image below makes an effort to appeal to consumers by requesting their communication frequency, in hopes of reducing unsubscribe rates.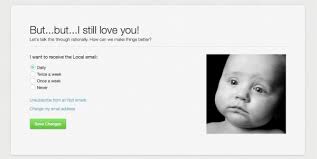 Allow consumers to provide input by rating, commenting or sharing their thoughts in the form of feedback.
Mobile users have a bias for action, focus on adding value, on making their lives easier, don't just sell, help them by respecting their time.
What are other mobile practices that would be helpful?