Retail shopping apps indicate mobile shopping is on the rise
The increasing presence of mobile devices like smartphones and tablets are contributing to changes in consumer mobile shopping behavior.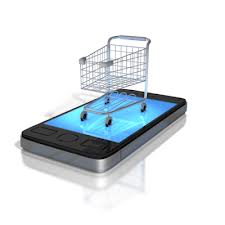 Consider this. According to Nielsen:
47% of smartphone owners have used native shopping apps
45 million have used shopping apps an average of 17 times per person per month
These numbers suggest that consumers are becoming more comfortable with mobile shopping. Whether it is pre-shopping research or final purchase, consumers are increasingly using their mobile devices. What's the major reason, you ask? The convenience factor, of course! Unmatched convenience is offered by smartphones, making research and access to social networks available right in the palm of your hand, so to speak.
The chart below lists the top ten mobile shopping apps. In addition to the traffic volume, the amount of time spent on some of these sites is worth noting.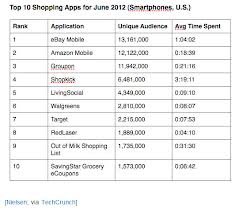 Mobile Shopping traffic grew by 38%
During the 2012 summer Independence holiday, traffic was reportedly 43% higher than the prior 3 weekdays. The Apple iPad was a major contributor to this activity.
Social networking is influencing the way consumers think and behave when it comes to mobile shopping. This is due to the fact that Twitter and Facebook are under pressure to monetize their business models.
The proliferation of mobile shopping apps, location based apps and increasing consumer willingness to share about their shopping experience has contributed to ecommerce sales growth.
According to Comscore, Q2 revenue grew to $43.15 billion 15% over the same period in 2011.
The Mobile Payments process is rapidly evolving
Recently a group of retailers led by Walmart and Target formed a partnership called Merchant Customer Exchange (MCX) to facilitate the shopping experience by integrating the convenience of paying at the register with customizable offers, promotions and retail programs.
The mobile shopping app should work on almost any smartphone.
This kind of product evolution could bring mobile shopping into the mainstream by removing many of the barriers like having to download multiple apps. Networks like this one will probably allay consumer's financial security fears.
Mobile shopping apps can impact the shopping experience
My most memorable mobile shopping experience so far didn't even require an app, at least not one I had to download. I went to an Apple store to purchase an iPad. From research, to purchase, to set-up, I was with the same sales rep the entire time.
The store representative was able to check inventory and complete the sales transaction from his phone. The phone was connected to discreetly hidden printers in nearby tables. These shopping experiences will continue to evolve as retail shopping apps become more sophisticated and helpful.
Ford is experimenting with a sales process that will equip their reps with iPads designed to facilitate the buying experience by allowing the rep and customer to build their vehicle on the spot.
Mobile Shopping Apps might be able to help your business now
Recently I attended a conference. The staff at the book table had an iPad with an attachment that accepted credit cards. Hardware and software are currently available to allow small businesses or individuals to accept mobile payments conveniently using their mobile devices.
Have you considered mobile payments? How could this technology help your business?