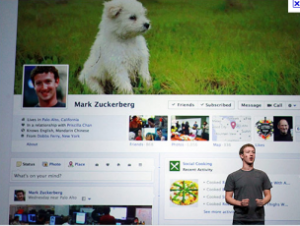 This post served as framing post for the #SMCHAT for Wednesday 10/4/11. Transcript and resources below.

Unless you live under a rock, you are no doubt aware of some significant changes that are taking place in Facebook.  Some of these changes have created a great deal of discussion and a bit of controversy.
There is some speculation that the presence of Google + is probably driving a lot of these changes.
The purpose of this post is to highlight some of the feature changes. Detailed resources are provided at the end of the post, which explain the specifics of each of the changes highlighted; they also provide more granular information on other features.
Most of what is presented below is a result of Mari Smith's webinar and the Social Media Examiner article.
Following are 5 changes (changes are grouped following the Social Media Examiner article as a template):
The Subscribe Button
This new feature is designed for public figures. It allows everyone to follow the updates of the content or person they are subscribing to.
Any piece of profile content will allow you to subscribe. Using the subscribe feature means you are bringing this content into your news feed or ticker.
Each user must decide whether to turn this feature on. Turning the feature on means you are allowing anyone to subscribe to your content.
The Hover Card pop-up is a new feature that allows a user to easily manage content, follows.
Smart lists
These lists are designed to help users keep track of the posts and updates of different groups.
Facebook automatically creates several lists: friends, acquaintances, work based, school, family, city
Lists you have already created are still available
You can edit, merge lists, and you can choose the types of updates you will see in your feed from each list.
News Feed Ticker
This is perhaps one of the more controversial changes; a significant complaint is that people find it distracting.
The ticker appears on the right side of your news feed.
You can see a scrolling version of the activity of friends, fan pages etc. By selecting any item in the feed, you will quickly see more detail about the specific post.
The ticker is not easily hidden, but there are a few workarounds in circulation.
The Timeline
The current profile page will now be called a timeline.
Although there had been rumors all would be switched over to the new format, there is no apparent firm date (at the time of this post).
The new look will have a large cover photo with a smaller photo insert. You will be able to choose the cover photo.
Make sure the About You section of your current profile is up to date.
Stories will be displayed in a two column format (default).
Privacy
There will be a few new settings to check – Mari Smith does an excellent job of showing how to find and manage these settings in her webinar (see the link below)
Default for mobile posting when you can't select audience.
Other Settings – there are five categories of settings that allow you to control who can view and share your content; and you can limit amount of past content audiences can see.
Chat Questions:
What are the implications of the new FB changes for you?
What would you advise a client to do about these changes?
Is the subscription feature significant? If so how?
Do you think these Facebook updates will lead to more interaction and engagement with your followers/subscribers?
Do you have concerns about the direction Facebook seems to be taking?
Please feel free to suggest other resources.
Chat transcript here: http://bit.ly/olC7ey
Resources:
Mari Smith – Facebook Changes: A complete Guide
http://www.marismith.com/facebook-changes-complete-guide-free-webinar-mari-smith/#
Mashable – How to take control of your privacy
http://on.mash.to/nbyLgO
Five Facebook Changes and What you need to know – Social Media Examiner
http://bit.ly/nVmbQF
Heidi Cohen – Facebook needs to be socially responsible and why marketers must care –
http://heidicohen.com/facebook-needs-to-be-socially-responsible-and-why-marketers-must-care/
Mashable – Facebook is getting too damn complicated
http://on.mash.to/q67aC5
Facebook for Your Business Interview on WCBI
http://t.co/XL84x89m
Mashable – How to Change to Timeline now
http://on.mash.to/rpDAGm
Atlantic Wire – A Guide to Facebook's changes
http://www.theatlanticwire.com/technology/2011/09/new-facebook-timeline/42835/
Mashable – Facebook users beware: Facebook's New Feature Could Embarrass you
http://on.mash.to/qluqPH