Recently I was talking to a prospective client about their need for a data driven marketing strategy. We discussed the benefits and challenges of successfully transitioning from a marketing strategy with a creative emphasis to one driven by data.
Amazon uses a data driven model very effectively. In fact, after completing a recent iPhone purchase I started thinking about my path to purchase journey.
Relationship Marketing is Relevant Marketing
I really liked my iPhone 4S but couldn't resist the temptation to upgrade to the iPhone 5. I love the functionality and versatility of this hand held computer. I use it constantly to communicate via voice and data; as a result battery life tends to be a problem. With the purchase of an extended battery case for the iPhone 4S, the problem was solved.
With the new pin configuration on the iPhone 5, I haven't been able to find a suitable solution. I searched the Amazon site but didn't find much.
Data Driven Marketing
Amazon sends me email all the time. But they don't just send generic sales messages, each email is relevant because it is driven by my interests and activities.
An email arrived with this subject line – "Meridian iPhone 5 Rechargeable Extended Battery Case for iPhone 5 – AT&T, Sprint, Verizon"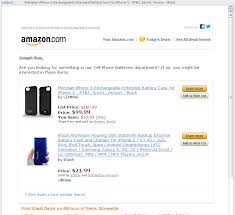 Ok, so the copy may not be eloquent or brief; however, because of its relevance, it certainly grabbed my attention. Amazon's Relationship Marketing strategy was data-driven; through insight gleaned from my search behavior, Amazon was able to meet my needs and deliver an actionable message which resulted in a sale.
Relationship Marketing is Convenient
When I opened the email I immediately saw what I was looking for, and with just a few clicks I ordered the external battery.
The email is designed to quickly convey content; as such it has a clean and simple design. I doubt it will win any creative awards, but then again it is designed to drive sales.
Because we all value our time it's important to tailor the buying process so it is easy for the customer to buy. Because I frequent the site, they store basic information so I don't have to enter it every time, and the steps to purchase are clear and simple.
Relationship Marketing is Sharing
Once I have completed my purchase, Amazon encourages sharing with my social network. Once again, they do this by making it very convenient. So now they have provided the opportunity for me to provide them with some free word of mouth advertising.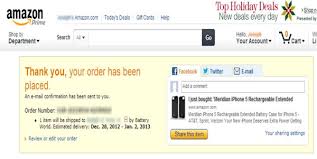 In addition to sharing the news of my purchase,  Amazon will seek my feedback on the product and my experience. Many marketers miss this opportunity for valuable feedback.
Integrated Marketing Strategy
The elapsed time from the initial email arrived in my inbox until the confirming email arrived was less than ten minutes. I was able to review the specifications, make the purchase and share my new acquisition hassle-free.
Amazon pays attention to my preferences and behaviors. They use this information in a manner that is relevant and appropriate. This is a very important point; with all the data available to marketers it's really easy to cross the line from relevant to creepy.
Amazon's integrated marketing strategy allows me to choose how I interact with their site. I access the communications and their site from my phone, tablet and computer. Often I will move from one device to the other while deciding what I want to buy. They effectively use behavioral data to improve my experience with their brand.
As a result, Amazon continues to draw me in to their site by offering a relevant and consistent customer experience.
What is your CRM example?