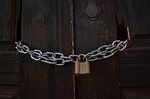 When you make a digital purchase transaction, do you even consider the risk involved, or is this just a no-brainer routine function for you? Chances are, your first online transaction was handled with plenty of consideration about the potential risk. But likely after a few online purchases, you became numb to the potential risk, enjoying the convenience and settling into a more comfortable frame of mind.
There are some interesting findings in the 2013 Consumer Mobile Insights study by Jumio and Harris Interactive. Consider a few of these specifics:
83% of survey respondents worry about identity theft, but appear to disregard this concern when given the choice of mobile options
26% of respondents reported being victims of online or mobile fraud
48% check account statuses/balances
32% pay bills online
60% expect to transact more on their mobile devices in the future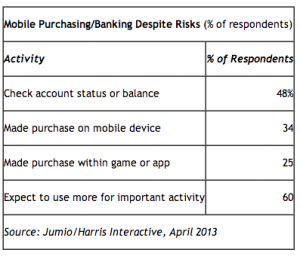 It's important to note that increasing online fraud may have an impact on these results in the future; however, for now it appears that consumers crave the convenience of mobile access for just about everything in their lives.
When I took a closer look at the study I noted some important differences between key demographic segments.
Concern over online fraud is lowest in the 18-34 age group (78% indicate they are not concerned) However, this group is the most likely to be targeted by fraud.
Men are more likely to use smart devices in the future to conduct important activities online 64% men vs 55% female.
36% of men (54% of men 18-34) say they are using mobile devices for bill pay.
Of course, everyone wants more security. 74% of those surveyed want more than just username and password for account access.
I recently decided to add additional security to my social media presence with two-step verification. You can find out more details from this Mashable article.
There is certainly added hassle and even some risk; for example, if you lose your primary phone number, you can be locked out of your account. Here's how this works: after you sign up, each time you log in to an associated account from a new device, you are required to enter a code that is sent via SMS text to your mobile phone. This number must be entered in addition to your username and password.
There are some important implications for marketers and companies.
First, security is absolutely critical. Don't collect any data you don't intend to use and be sure the data you do collect is secure.
I often write about focusing on the customer experience– it's an absolute necessity for creating the kind of experience consumers will deem convenient. In this world of social shopping, consumers are accessing your services/products using mobile devices, and consumers are more demanding and in control of information than ever before.
Smart companies will continue to listen and observe their customers in order to understand their concerns and needs. They will also carefully guard the personal data of all constituents.
In the end, utility is all about helping customers buy and use your products and services.  Mobile purchasing and social shopping trends make it incumbent for all businesses to ensure online purchase security and to communicate it to their customers.