With the anticipation of spring, evidently I have growth and botany on my mind.  My post earlier this week  encourages businesses to get back to their roots.
And today I carry on my theme of plant life.
Part of getting back to your roots quite likely will involve some pruning.  So let's start with a definition.  Dictionary.com gives four:
Pruning: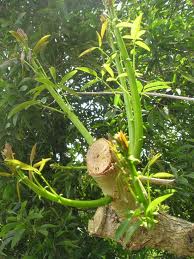 –verb (used with object), pruned, prun·ing.
1. to cut or lop off (twigs, branches, or roots).
2. to cut or lop superfluous or undesired twigs, branches, or roots from; trim.
3. to rid or clear of (anything superfluous or undesirable).
4. to remove (anything considered superfluous or undesirable).
Starbucks Pruning
In 2008, Starbucks tackled a myriad of problems that were beginning to surface inside the company.  Starbucks lost approximately $6 million by closing shop in its 7,100 US stores, so that it could rid (aka prune) the company of the undesired habits and decreased standards that began to develop in the name of efficiency.
CEO Howard Schultz: "In the beginning of 2008 I deeply wanted people to fall back in love with Starbucks, which is why, even when bombarded by warn­ings against it, I decided to close all of our stores across America. I did not feel fear as much as a sense of the unknown, like I was flipping over a playing card. All I had was my belief that, even more than per­fecting our coffee, we had to restore the passion and the commitment that everyone at Starbucks needed to have for our customers. Doing so meant taking a step back before we could take many steps forward."
Schultz put his clippers to work and trimmed the undesired brushwood within the company.  The goal of this pruning was to restore the passion and commitment to inspire the human spirit through a perfect cup of coffee.
Does your business have any superfluous or undesired twigs that need trimming?
All the excitement of your small business growth might have you branching off in directions that won't get you closer to your goal.
You have multiple ways to get somewhere, but don't you want to ensure you are choosing the best way to reach your destination?  It'd be nice if the winning path was obvious, but in the small business growth cycle there are many winding curves, numerous turn-offs and choices to be made, amongst a sea of ambiguity.
And the greater the number of choices, the higher the potential for error.
That's why pruning is so important.  Until you get that old half-dead looking stuff off, it'll still be sucking good life out of your small business.  Do you really want the life-sustaining nutrients that your roots provide to be wasted on limp, yellowing growth that's becoming crisp around the edges?
Why is it that you hesitate to cut back the so-so stuff?
Perhaps it's because it appears to be a costly venture.  Schultz realized the inevitable downward spiral Starbucks was sinking into.  Have you considered the opportunity cost foregone by not trimming the superfluous in your realm?
Is it because you're hoping to revive the half-dead stalk?  Perhaps a little fertilizer, extra water and tilting it toward the sunlight might bring it back to life?  Possible, but not probable.  The damaged stem will never be as healthy as the new sprout that could emerge from the pruning process.
Is it lack of faith that the new blossom will emerge?  If that's the case, then perhaps your roots weren't strong enough to begin with, so maybe a more successful calling might be the path to follow.
Is it that your standards aren't elevated enough and you're satisfied being a little drab and limp?  If so, you're sadly not maximizing your potential.
Instead of being reluctant to use the scissors, comprehend that the quicker you put your shears to use, the sooner the potential for new, more prosperous growth.
"There are moments in our lives when we summon the courage to make choices that go against reason, against common sense and the wise counsel of people we trust. But we lean forward nonetheless because, despite all risks and rational argument, we believe that the path we are choosing is the right and best thing to do. We refuse to be bystanders, even if we do not know exactly where our actions will lead."  Howard Schultz, How Starbucks Fought for Its Life without Losing Its Soul
The greatest reward from pruning: once you lop off the old baggage, a new, more brightly colored blossom can sprout and take life.
The greatest drawback of neglecting to prune: the plant ceases to grow and eventually dies.
Do you have some "yellowing leaves" that need to be pruned?  What extraneous tasks are you engaged in?  Identify the dead weight that can be pruned now that will multiply dividends for you in due time, and don't allow it to exhaust your resources any longer.
Pruning might be a painful at first, but if your roots are strong, it'll create for you a healthier, more beautiful plant (or small business).  Does your small business reflect a plant that needs pruning?