Social Local Mobile is Reshaping Business
Mobile is reshaping the way we do business. Don't believe me? Consider this: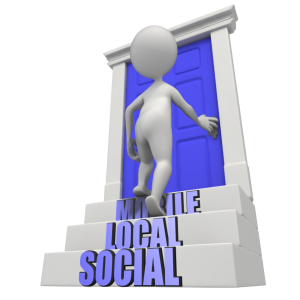 The number of U.S. searchers on mobile phones grew by 26% this past year to 113 million in December.
Tablet search volume grew by 19% to over 38 million searches.
More than half of all users (56%) say they use mobile search because they are on the move, while 28% indicate they need the information quickly.
Total searches on personal computers declined by 6%; but, and this is an important "but" local searches on PC's declined by 17%.
(Source: 15 miles Neustar Localeze Study)
I'll come back to this in a minute. But before we move on think about these questions:
Have you searched for your business from a mobile device?
How do your web assets display on the different mobile phone platforms?
I talk about Local mobile marketing here.
Social Local Mobile or SoLoMo for short
Consumer's number one activity on mobile devices is search.
Mobile Phones and tablets are used significantly more than PC's in the middle and at the end of the buying process; nearly double in the middle and more than four times near the end.
(Source: 15 miles Neustar Localeze Study)
Maps play an important role in local searches, in addition to directions and store information local searchers also use navigation systems to find local businesses.
Local business searches on mobile devices result in purchases over 75% of the time compared with 59% for PC users.
Social Local Mobile is Engaging
According to a recent Constant Contact survey, 80% of small businesses responding to the survey conduct social media marketing.
The top three platforms considered effective in order of preference are:
Percent of responders
Facebook  – 82%
Linked In – 29%
Twitter     –  25%
While interest in Facebook grew by a healthy 9% during 2012 interest in Linked In and Twitter grew by a factor of 3.
While interest among small business owners is on the rise, many lack the confidence in their skills. 54% of those surveyed noted social media was the marketing discipline they most needed help with.
Social Media for Small Business
The rapid growth in smart technology globally is profoundly shaping the way consumers research, buy and consume products and services. The rate of change in technology and social behavior can be mind-boggling.
For many, the risk of untested marketing practices and new demands will drive them to dig deeper into the way they have always done business, to a perceived safe haven.
I submit that staying the course may actually be more dangerous than experimenting in the new marketing landscape. Instead of fear, think about the possibilities of a new land of opportunity.
SoLoMo – The Land of New Marketing Opportunities
Mobile is the new hub that connects local and social. Instead of focusing on each of these three ingredients individually, in silos if you will, think of the area where they overlap.
Focusing on your customer, the way they behave and think is more important than ever. Many of you will find this familiar territory. Read SoMoLo: 6 Essentials to get Local Marketing Underway.
Think about location questions:
Where are your customers and prospects physically?
Where are they in the purchasing journey?
What kind of content are they looking for?
How can you help them find what they are looking for?
So Lo Mo – Begin with the Basics
First, claim all your platform identities, even those you may not plan to use. This is relatively easy and it's free.
Next, make it easy for local search engines to find you. Remember search is the number one mobile activity. In Why Local Search Engine Marketing is Important, A Personal Story  I share why claiming your local space is essential.
Optimize Google maps. The more you connect your business to the maps feature, the more prospects and customers will know from a simple query.
Audit your present web site from a mobile perspective. How does your site render on the different smartphone platforms? Try navigation and searching for product information. Here are 10 Excellent Tools for Testing your Site on Mobile Devices.
If your site requires scrolling or loads slowly, or is cumbersome to use, consider updating to a mobile friendly platform. Mobile consumers are ready to take action, but they are impatient and will quickly abandon an unpleasant experience.
Optimize your site for local search terms. This is both an art and a science so you may want to seek the help of professionals.
For brands and marketers willing to experiment and embrace the new SoLoMo opportunities and challenges with personalized service and offers, the potential to reap great rewards is limitless. What SoLoMo steps will you take to climb the stairs of opportunity?