Retailers have an opportunity to capitalize on missed sales through mobile-enabled commerce.
For many retailers, decision-making mobile tools are what stand between a sale and a missed opportunity.
By providing tools and experiences on smart phones, shoppers can be converted into buyers.
"Seeing that most real world retailers generate 90-plus percent of their revenue in-store and not online, using mobile to influence the in-store purchase behavior is a huge opportunity for retailers to affect their top-line revenue numbers." Read more about bricks and mobile here.
Consumer Sales of Smart Phones Continue to Climb
Sales of smart phones were up 74 percent year-on-year and accounted for 25 percent of overall sales in the second quarter of 2011, up from 17 percent in the second quarter of 2010. (Gartner) As smart phone sales continue to increase, retailers who stay ahead of the curve and remain customer-centric will come out on top.
Mobile Phone Activity is a Significant Part of the Consumer Shopping Experience
45% of social shoppers frequently or occasionally check in at a store, about 10% more than those who use a search engine on their mobile phone to look for product information (41%), and 50% more than those who use a barcode scanner to shop for prices (30%). Taking a photo of a product to post on a social network and ask for comments (30%) is more popular than taking a video of a product with the same purpose (20%).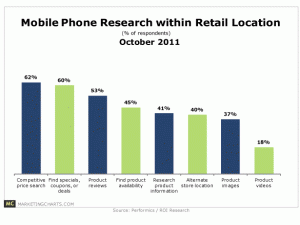 Wal-Mart Gets in on the Bricks-and-Mobile Action, as smart phones transform shopping experience.
This week AdAge Digital published an article touting Wal-mart's launch of new ipad or iphone apps aimed at linking online and in-store shopping.
This bricks-and-mobile strategy provides tangible value for customers, and the very foundation of the strategy is mobile CRM. Some of the customer benefits:
Home bar-code scanning
Integrated coupon lists provided direct to consumer, saving them coupon-clipping time and frustration
Shopping list with budgeting tool that can be shared
"favorites" tab to help create future shopping lists
"Browse my store" capability for checking product availability at specific stores
Any customer likes to see how their retailers are working to make their shopping experience/life easier, one of the best first steps to creating a business-consumer relationship.
Check out this podcast for more on how Smart Phones are transforming the shopping experience.
Is your business using mobile applications to enhance the consumer experience?