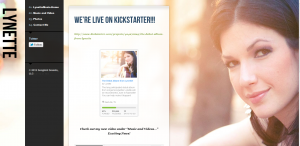 In my recent post on how social and technology have profoundly changed music marketing, I spoke about how my daughter-in-law is learning to promote music in a new digital landscape.  I invited her to share some of her experiences so far.
The Changing Music Marketing Landscape
Technology has forever changed the landscape of music promotion.  If you are an aspiring artist, or you know someone who is, I would like to offer my experiences and insights into social media music.
In some senses, these technological advances have made writing and recording songs much easier.  Today it is simpler to capture, store and share our musical ideas than ever before.  I love that I can do preproduction meetings for my forthcoming album via Skype.  This technology has given artists without "insider" connections the ability and the avenues to share their music with a broader audience.  Artists no longer need a major label to sell music online.  Yet, this same technology that has empowered and liberated musicians and recording artists has also created a fascinating catch-22.
Today as an aspiring artist, you are expected to know how to market your music.  This means building your own fan base, not only through live shows but through all of the various social media venues that are available.  You are expected to have high-level "label ready" albums and EPs before they are able to get any attention from managers, agents or labels.  What this means is that you will have to spend a lot of your own time and resources just to begin to be competitive on the "indie" music scene, to say nothing about major label acts.
In my experience, it isn't enough to just have a dedicated live and online fan base, a slick website, a few good singles and a decent twitter following.  For example, this past winter we tried to book a larger 'live show' here in Paris.  They liked our sound and "look."  We were able to guarantee 150-200 paying customers (which would have put the venue near capacity, something owners usually love).   However, because there was no 'product' to sell and promote the show (read: full length album or EP), we were not able to book the venue.
In fact, it was this experience that sealed the deal for me to pursue recording my debut album.  The trick is taking that next step isn't as simple as pressing the record button in GarageBand.
I am fortunate enough to know a few people with a lot more experience than I have.  They have graciously lent their help and expertise guiding me through this process, giving helpful tips and suggestions along the way.
The Challenge of Music Marketing
Kickstarter (one such "tip") has been an incredible platform that has allowed me to involve my friends, family and fans in this exciting journey of making my debut album.  Yet, it hasn't been without its challenges.  Keeping my online fan base interested and involved in the process has required hard work, dedication and creativity.  Furthermore, while there has been an overwhelmingly positive response to my project (we currently have well over 1000 "likes"), we have found it to be quite a task moving people to action (we currently have 155 backers, just over 15% of the number that like the project, not to mention the others who perhaps have viewed the site and not taken the time or known to press the "like" button).
Beyond that, there is a laundry list of things that need to be done each day just to ensure the project can move forward.  I constantly laugh and joke singing, "I'm every woman," because at this stage in the game, my husband and I are the people taking care of the entire list.  I am artist, songwriter, manager, agent, creative and marketing directors, film editor, booking agent and the list goes on.
Challenging as it is at times, I figure it's a small price to pay to do something that I love.  Of course, I am looking forward to the day when I can simply focus on the things I do best: sing and write music.  J At the end of the day, regardless of how music is being made, I'm grateful that I can be making music at all.
So for those of you who know music marketing, or any marketing for that matter, how do you move people to take action?  Likes are great, but what does it take to motivate someone to give, even a small amount?