The article Global brands slow to adopt social networking reveals that global brands aren't utilizing social media to its fullest potential. Executives from nearly 1900 global companies with significant sales participated in a study,  prepared by Weber Shandwick and Forbes Insigh.
As illustrated in the below graphic, "This study reveals that while a majority of global executives agree that social networking and media are key drivers in their market, 84% of these executives admitted that their brand's social abilities and impact are not what they would deem as world class."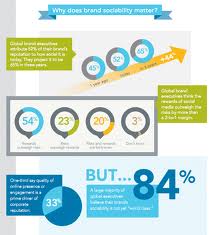 "There is a disconnect between theory and reality when it comes to socializing a brand," said Christ Perry, president of digital communication at Weber Shandwick, in a statement. "All too often, brand managers clamor for the latest and greatest application and new technology, bypassing the need for clear business objectives, a true social orientation and programs that deliver real value to brand communities."
Social presence online isn't enough.
"While it is easy to set a goal for the number of followers or "like" that a brand page aims to get in during a time period or product release, what many of these global brands are failing to recognize is that they need to have an internal, cohesive strategy for their social image and impact before any metrics goals are set."
Companies should be regularly engaging followers, with content that is related to their brand and progressing the brand image. Offering contests and promotions should be a part of an integrated marketing strategy.
Careless usage of social media by brands will result in disinterested followers.
Businesses engage in social media for a purpose, usually to increase brand awareness, resulting in sales growth. While consumers want to experience transparency and authenticity, it is important to thoughtfully consider with each update your followers may perceive each message. And the litmus test on whether or not to post should be "How does this message enhance my brand?"
Time is a valuable commodity; followers who perceive companies disrespect their time will hop off the bandwagon quickly.
This article reveals how you might be driving your followers away, through social media updates that aren't enhancing your brand. "Don't bore people. Be bigger than that. Be the brand you've worked so hard to build."
Do you know what your social media purpose is?