This is part 2 of a 2-part post on SoMoLo. Part 1 gave a general overview of SoMoLo and its opportunities, benefits and challenges.
A Pleasant SoMoLo Dining Experience

While visiting in London, I ate lunch at Gourmet Burger Kitchen (GBK) restaurant; I simply couldn't resist!
After I placed my order, I noticed a table card (pictured below) inviting customers to download their app which was cleverly worded "eat burgers be appy"; the invitation to download the app suggested that downloading it would unlock exclusive student rewards.

A Great Example of SoMoLo Integrated Marketing
The printed piece included a coupon offer (shown below) targeted at students. A student is able to remove and redeem the coupon even if they don't wish to download the app.

Downloading the SoMoLo App
There are three options available.
Use a app specific URL.
Scan a QR code
Go to App Store for iPhone or Android
The app will entitle the student to rewards each time they visit the restaurant. The app contains a restaurant finder and a menu.
The Customer-Centric SoMoLo Student Program
It's clear the student will be signing up for a GBK rewards program with a unique membership ID number and some kind of a membership card. Signing up will unlock a 30% student discount. Not too shabby for a starving student.
In SoMoLo Marketing, Social Business is Required
After I devoured my veggie burger and fries, I sent out a tweet complimenting GBK on a tasty meal. Soon afterwards I received a warm personal acknowledgment and a note expressing appreciation.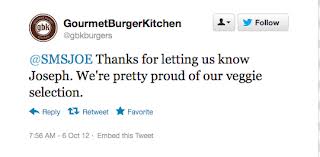 All too often businesses have a social presence either on Facebook or Twitter for example, yet they fail to pay attention to what is being said in the social space. It doesn't take a lot of conversation to simply be present and acknowledge comments.
A SoMoLo Evaluation
GBK indicated they are only starting to explore the social space. They are off to a really good start. By choosing to target a specific audience, they are able to tailor the messages and offers in a manner that is relevant. While everyone likes to get a great deal, this is particularly true for students.
The printed piece on the table clearly communicates the features and benefits one can expect to receive by signing up for the program. Access to an existing loyalty program is being expanded using the social channel.
Enrollment into the program is simple and clear; and there are plenty of options available to suit the technical preferences of any digital native.
Most important, GBK hasn't overlooked the basics. The most obvious marketing piece on the table also contains a coupon, so even those who might not be aware of the online presence of the restaurant can still take advantage of the discount offer. Promotions should always have an expiration date to create a sense of urgency, and this one does.
I would suggest adding some basic social media icons to the printed piece; however, overall I think GBK is doing a really outstanding job, especially when you consider this is an early effort on their part.
I'll bet they have set some goals and are monitoring the program performance so they will be able to make any adjustments necessary to enhance the results.
I give GBK very high marks for a well thought-out program.
What do you think of their efforts?