Starbucks Brand Personality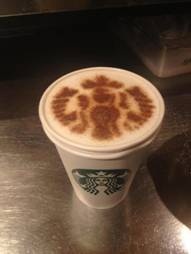 I recently came across this image in my Twitter Stream. It came from a friend in Toronto.I often write about Starbucks marketing, and have addressed the following topics:
·         Starbucks effective marketing communications strategy
·         Starbucks as a social media model
·         Starbucks new logo marketing strategy
·         Starbucks integrated marketing case study
I write about them for a couple of reasons. First, as a consumer, I really like strong coffee. Second, I think Starbucks is a great integrated marketing case study.
Today however, I am writing about the Starbucks brand experience in general and their personality in particular. You might say "what is the difference?" and that would be a fair question.
Here is what I mean by personality. In the photo you'll notice that the particular drink is served with cinnamon on the top. That in and of itself isn't that remarkable; however, in this particular instance someone took the time to think about a seemingly insignificant detail. The cinnamon was probably poured through a filter that was fashioned in the image of the company logo.
Starbucks Brand Identity
Whether or not you get exactly what the logo is supposed to mean, in Starbucks own words in their So, Who is the Siren? explanation – it means good hot coffee just the way I like it whenever I see the symbol. In fact I have even tried some of the cool refreshing drinks and food products.
The imagery always grabs my attention, especially first thing in the morning; because I know a good hot cup of coffee is waiting and perhaps some good conversation if the location is also a meeting place.
Starbucks Brand Experience
Back to the cinnamon logo, as far as I know this isn't a system wide phenomenon. Someone decided to put some extra effort into the delivery of their product.  As a result the consumer thought it was worthy of sharing and the next thing you know we are talking about the Starbucks Brand experience.
Will this increase sales at Starbucks? Who knows, probably not, but it does help build Starbucks brand value. It is the little extras, the attention to detail that turn a routine visit for coffee into a product photo op. It's memorable and it grabs attention, a pretty good brand engagement recipe.
Starbucks Brand Value
It's important to remember that brand value is built by consistently delivering a quality product or service. Without quality coffee choices a cinnamon logo is a poor gimmick at best.
The extras I am talking about here are only meaningful after the hard work of shipping quality, and then continually shipping so the consumer only experiences the unexpected delightful surprises.
Starbucks Brand Essence
Over time brands can drift off course for all kinds of reasons. Good brands are able to recognize this and address it head on. Several years ago Starbucks began to lose its edge, losing ground to the competition. To their credit the company called a time out for a corporate re-education, as expressed in the NY Times was an article called Starbucks Takes a 3-Hour Coffee Break. This was a gutsy move; however, it spoke volumes about the connection between leadership, culture and the consumer experience.
Good brands are vigilant, they pay attention to feedback and they ensure their employees are empowered to deliver on the brand promise.
What does your logo say about you? How would your customer answer the question?