Starbucks and Marketing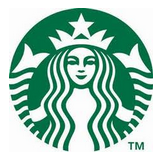 Starbucks makes good coffee. I know there are those who think it is too strong or it tastes burned; however, I think it tastes really good. In addition to making fine coffee, Starbucks is first-rate at integrated marketing.
I receive Starbucks communications via text, email, and direct mail. Through these channels, I can interface with the main website, provide ideas via the innovation site and purchase products from my smart phone using the Starbucks app.  Previous information on this was presented in our recent Starbucks marketing communications strategy blog post.
Starbucks was among the first retailers to deploy a robust app that turns your mobile phone into an electronic rewards card. Even though I have a phone app, I still regularly receive post cards redeemable for free drinks to reward my numerous coffee purchases, or a birthday gift, or on some occasions, I've been offered a free sample menu item.
Starbucks Relationship Marketing
Successful relationship marketing programs must be relevant and timely. Being relevant and timely requires insights that are derived from data. There are different levels of data depending on the source of the data. For example, you can get data directly from the source, by asking questions. You can append data from other sources like list companies for example.
Relationship marketing programs can be very complex programs having many elements that can be initiated by consumer behaviors. Starbucks takes a straightforward approach by focusing on the basics. Since they have my birthdate, I can expect a free birthday beverage every year.
Being a regular coffee drinker, I enjoy the rewards. For every 15 drinks I receive a free drink.
Creating the Starbucks Customer Profile
I mentioned above that relationship marketing programs need to be built on insights. Insights usually come from customer profiles. These profiles are built on data collected and stored in individual customer records.
My customer data profile has been enhanced over time. This is an important point. Don't try to collect all the data you will need at one time. Prioritize the varying data elements based on the utility of each one and then set about to capture that information at appropriate interaction points.
More tips on how your business can create rich customer profiles:
Keep the data current; don't forget to build in opportunities to have your customers verify the accuracy of their data.
Use all data sources available. Behavioral data, particularly product or service purchase and use data is critical. This information will be of great value in creating communications and promotion strategies for customer segments.
Starbucks Marketing Research
Starbucks was able to gain insight by sending this email.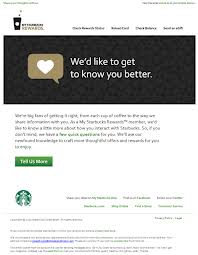 The communication is clear and straightforward, they want to get to know me.
In the email, there was a link to this survey.

Notice how it is brief and to the point. They are interested in knowing how I choose a coffee shop. There are two other categories of questions, where I buy and what I drink. I'm sure there were other questions their marketers wanted to know; however, there is a tradeoff between additional questions and response.
Consumer Willingness to Share Shopping Preferences with Favorite Retailers
According to the e-tailing group and MyBuys, in a joint online survey, consumers are more comfortable sharing data with retailers than they are with social networks, especially if it enhances the shopping experience.

Because I believe Starbucks uses my information to provide a better shopping experience, I am willing to provide information.

Starbucks Customer Analysis
After the data has collected, the real work begins. What insights can we extract from the data? There could be natural segments based on my behavior. For example, I am a gold card member. This membership entitles me to discounts and rewards based on product consumption.
There could be other types of segments based on:
the type of drinks consumed
bulk coffee purchases
food purchase behavior
Starbucks is a company that that promotes various social causes. That too might be an important segment.
Always be thinking of good questions. What would you like to know about your customers? What drives their behavior? What do they think of your products and services?
As you think of these questions, figure out ways to capture this information efficiently, without irritating your customers. Once you have collected the data, start mining it for useful insights. Most importantly, business marketers should continuously search for ways to put these insights to good use as noted in a Starbucks case study blog post.
What kinds of questions are you asking? How is it helping?