Starbucks recently announced they have redesigned their logo.  Typically an announcement like this one generates a fair amount of discussion; most of it is a critique of the creative elements etc.  I am more interested in the way they communicated the message.
As a Starbucks Rewards member I have signed up to receive emails on a regular basis.
The day before the big announcement I received this email.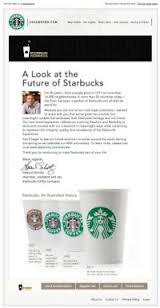 The subject line "A look at the future of Starbucks" caught my attention because it is not the normal subject line; usually they are about a coupon or new coffee flavor etc.
The email recognized my status as a rewards member and cleverly positioned this correspondence as a preview.  The email links to a unique url www.starbucks.com/preview.  The email and website provide a lengthy and detailed explanation of the rationale behind the logo change along with a history of the logo.
What are the Integrated Marketing Communications elements?
The email provides a link for those wanting to view these communications from their mobile phone. This is what the mobile friendly site looks like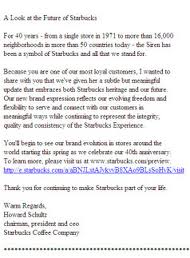 Timing was critical.  For the preview message to be authentic it had to be received ahead of the official announcement.
Video is a powerful channel.  Here the president and founder delivers a brief, personal message about the new logo design and Starbuck's ongoing commitment to providing good coffee.
Sharing icons are prominently displayed to encourage rewards members to spread the word; no doubt they were hoping to extend the reach of the announcement virally.
Conclusion
Do coffee drinkers really care about the logo?  Whether they do or don't Starbucks have done a nice job of reinforcing their brand message.  For those interested in the topic there is plenty of content providing context and rationale.
The rewards members were positioned as special customers worthy of a pre-announcement.  As one observer pointed out the timing also helps deflect attention from a price increase announcement.
Are there other elements you noticed?  Do you think it was an effective campaign?  I'd love to hear your thoughts.