Tablets are affecting consumer buying behavior
I remember when Steve Jobs first held up the tablet. Do you? Many pundits scoffed; why would anyone want a tablet? After all we had PC's and smartphones. There was no existing market.
According to Pew Internet, tablet ownership has almost doubled over the past year, from 18% to 34% of American adults over the age of 18 now own a tablet. Those most likely to own a tablet are found in households with incomes above $75,000 per year. Owners tend to be younger (35-44) and educated.
Based on a Harris Interactive survey, emarketer reported that these users over index for technology products. While one might think tablets would replace existing technologies, this doesn't seem to be the case.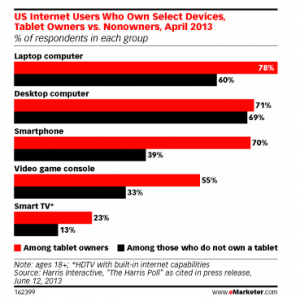 Increasingly multi-screen behavior is becoming a priority for marketers. The number one activity cited is watching TV. Interestingly the next few activities highlighted in the emarketing chart suggest that this group is continually connected; however on multiple devices.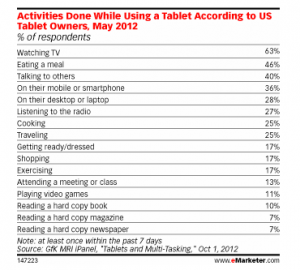 What is marketing going to have to do to adapt?
The marketing implications are significant. Keeping track of this multi device, multi channel audience presents some significant challenges for brands. The customer experience is increasingly becoming a threat and an opportunity.
Brands that adapt to a new "outside in" customer relationship view have an opportunity to attract and engage a potentially lucrative audience. Brands that view mobile marketing as another tactic run the risk of alienating this group.
Marketers will need to shift from a transactional to a relational mindset. Marketing utility is the new mantra of brands that are exploring ways to provide relevant content designed to help consumers find, buy, use and share their products and services.
What is integrated marketing communications?
As consumers are more comfortable seamlessly moving between technologies, they expect brands to be able to keep up with them. Keeping up means keeping track, anticipating their needs, removing friction from the buying process.
For example, if I am watching television, I may search for the website of a brand if the ad seems interesting. Some television shows now add a hashtag encouraging viewers to talk about the program on social media channels.
How can integrated marketing help?
First, think holistically about the consumer's buying journey. If you haven't already, create your own journey map. Think about the questions prospects and customers are asking. Talk to customer service; listen for complaints and suggestions.
Using mobile technology, walk the same path your customers walk. Identify friction points. For example, are you asking for information you already have? How challenging is it to fill out the information you require on a tablet or smartphone? Do you really need all the information you are asking for?
When planning your next marketing communications outreach, think about how the content might be repurposed. If you are running local advertising, is there a clear connection between the ad and your website? Think about what you want consumers to do and then make it simple and easy for them.
What else can you think of?