As we enter the holiday season, I thought it appropriate to share some growth trends and statistics I've been reflecting on during this season of Thankfulness.
Shopping: Online Growth outpaces Traditional
Online holiday sales will be up 16.8%, in comparison to a retail sales increase of 3% according to eMarketer, yet many large retailers struggle to attract online shoppers.  For more on this, read Online holiday sales set to increase — but can big retailers keep up?
Black Friday Shopping on the Rise
The bar chart in the upper left on the below graphic shows that the numbers of people of who shop on black Friday weekend has steadily increased each day across the past several years.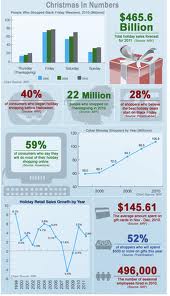 Local Growth
During this season of thankfulness, it's encouraging to see that in tough economic times, a local faith organization is seeing growth.
Needle's Eye, in Richmond, VA, which has been going strong for 35 years. businesses incorporate their faith into corporate culture.
Global Internet Growth 
The below chart reflects internet world users over time. Global Internet Usage increases, with language being a major barrier in accomplishing a truly global society.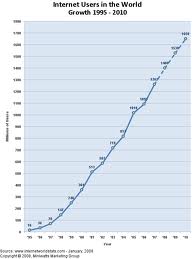 Few things remain a constant in this world; One thing we can count on in this life is change. What growth trends are you experiencing that you can choose to be thankful for this season?