Did you see Top Gun? It's one of my favorites. One of my favorite lines from the movie is "I feel the need for speed".
Ok so maybe the movie quote is more fun; however, most marketers do understand the need for speed.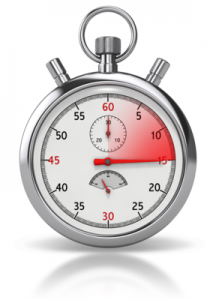 Consumers don't like waiting in line, off line, and especially online. In the ecommerce world fractions of a second can cost you a sale.
A recent Compuware global survey of smartphone and tablet users found that 85% preferred apps over mobile sites. Now one can quibble a bit with these findings because I have seen other surveys that reveal a preference for mobile web sites.
Don't let this nuance distract you from the really important outcome. Speed!
Before I get to the stats on speed I'll point out one other equally important factor – performance. Most people (79%) will try a problematic app only once or twice after it failed to work the first time according to the study.
Now for speed, 78% of those surveyed expect an app to launch as fast or faster than the mobile version of a site – that would be within 2 seconds. If not happy with this level of performance 48% indicated they would not use it again.
There is one other important element is choosing any app, user ratings. 84% said user ratings posted in the app store influenced their decision.
I suggest you check the speed of all your online digital assets. Google Analytics has a speed category, if you are familiar find out who can provide the information for you and make sure your pages and content are loading quickly (ideally within 2 seconds).
There are services you can purchase to improve speed if that is an issue.
If you have an app or are considering one make sure you test and retest across all mobile platforms. You typically won't get a second chance if your app is a problem.
Monitor the performance of your app or site by listening to social media conversations. Immediately fix any problems. When you are sure everything is running smooth, ask for ratings.
Continue to monitor the social sphere post-launch for any unexpected events.
Are there other tools or practices? If so, let me hear from you in the comments below.