What is SoMoLo?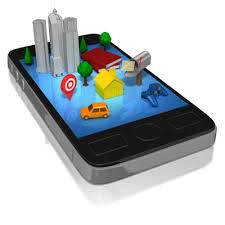 Each Wednesday afternoon I like to participate in #smchat.  Recently, the announced topic was "What do you love about #SoMoLo"?  To which my first thought was "What is SoMoLo?"
SoMoLo is an abbreviated term for Social Mobile Local.  It defines a new kind of mobile shopper and it represents the intersection of behavior, technology and culture.
This SoMoLo infographic does a good job explaining the complexities and behaviors of this intersection: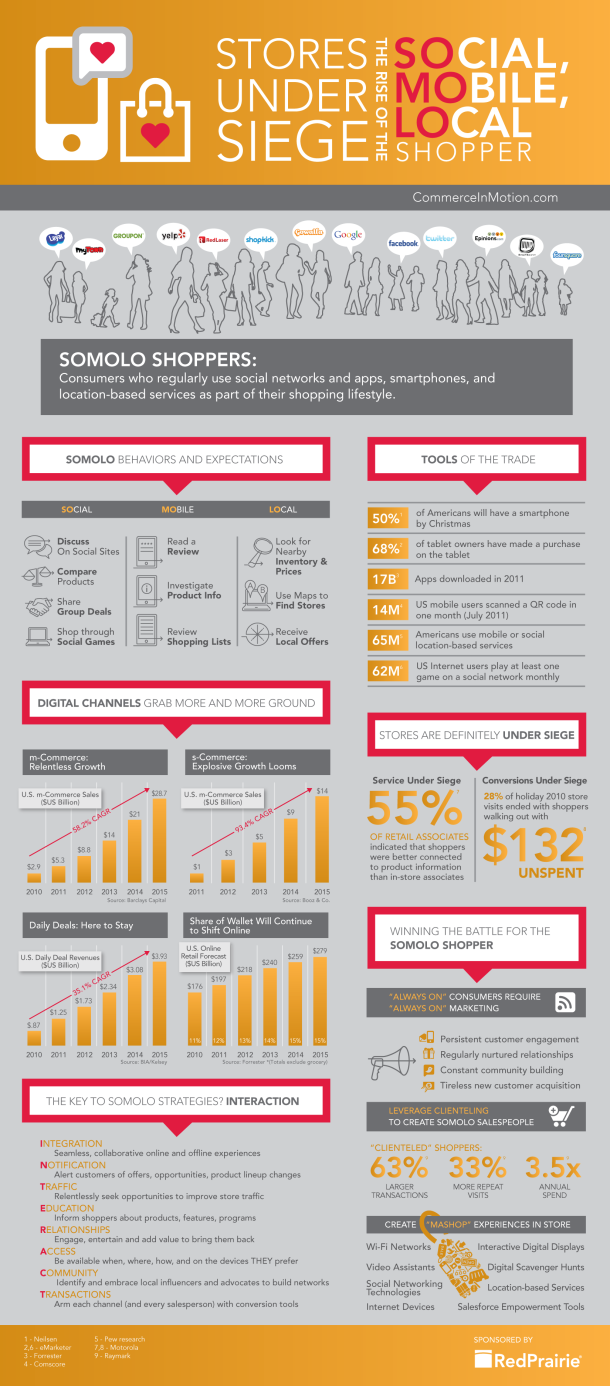 Why should marketers care about SoMoLo…or is it SoLoMo?
Two immediate reasons come to mind:
The first is the current size of the mobile segment.  In the United States, the penetration of cell phones is nearing 100%.  Smart phone penetration is approaching 50%.
The second reason is the size and growth rate of mobile commerce.  For the five year period of 2010 – 2015, mobile commerce revenues compound growth rate is over 58%.
Interesting that recently through analytics, we noticed that SoLoMo was outperforming SoMoLo (which just means that folks are entering the term SoLoMo more frequently than SoMoLo)…in case you haven't caught on, which won't be surprising, more folks are putting the Lo in front of the Mo, a subtle, albeit important difference. Even such a minute difference can make an impact on your results. If you are the top rated publisher of SoMoLo content, but a greater percentage of people are searching SoLoMo, there's a whole audience missing out on your content from a silly reverse in letters of an acronym. Lesson learned here: don't underestimate the importance of SEO. Whether you call it SoMoLo, or SoLoMo, the intersection of social, mobile and location isn't a fad; it's part of the changing marketing landscape. But if you want to talk to folks who are interested in it, being aware of the exact search terms they are using is critical.
The SoLoMo Challenge
Consumers are out in front of most businesses.  Social sharing in the form of networks, apps, communities to name just a few, in conjunction with the increasing availability of mobile tools and technology, and the growing sophistication of location-based communications all work together to give the consumer a distinct real- time information advantage.
The new mobile consumer's expectations have been elevated; however, there is a gap between their expectations and their experience.  On average, across different industries, that gap is close to 20%.  By gap I mean the difference between the percentage of consumers wanting a certain SoMoLo shopping experience compared to the percentage of brands that are able to provide that experience.
The SoLoMo Opportunity
Brands and small businesses that are able to respond and adapt to this new shopper stand to gain increased revenue and market share.
Even if it isn't possible to address all three components, incremental changes in any of these will improve the odds of increasing sales and creating deeper relationships with existing customers while attracting new customers.
Getting Started with SoLoMo
It's easy to be overwhelmed by all the moving parts we have just talked about.  The best way to begin is by assessing your existing business model and target audience.  You may already provide some of what we are talking about.
Keep in mind: SoMoLo implementation will require a different mind-set within the organization.  Empowered front-line staff will need to know your marketing and promotional objectives.  You will want to hear feedback from those who are interacting with customers.  Do your best to promote sharing and collaboration between all functional areas.
Determine if your web site is optimized for local search.
Visit your website using a smartphone and determine:
Is the experience useful?
Can you find information?
Is it readable?
If the mobile experience is not good, consider upgrading your site.
Explore sites like Yelp and Around Me. Where possible, provide accurate up-to-date listings, monitor consumer comments and ratings for problems that may need to be addressed.
Experiment with some local promotions.  Sites like Foursquare allow you to provide specific offers to customers who are in your service locations and the ability to notify their friends.
The new shopper's expectations and experience will continue to shift with the advent of new tools and technologies.  Brands that learn by being curious, monitoring, listening, empowering and taking action will have an advantage.
What else can you think of?