There is no question local marketing is a rapidly emerging movement. Google continues to innovate, constantly tweaking their search algorithms to provide relevant search results. Recently they released Carousel, a graphic display that significantly enhances the presentation of local results. In my post Google's New Local Service Feature Can Be Good for Local Business, you can find out more.
Yelp is a social site designed to allow consumers to rate, comment and post photos about their experiences with businesses. The service covers a broad range of services from restaurants to locksmiths.
Users and businesses can create accounts on Yelp.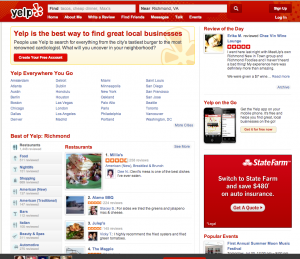 Yelp is becoming quite a player – with 100 million monthly unique visitors as of January 2013 the service has increasing visibility among consumers, and it is growing – Mobile devices with Yelp app installed grew 60 percent.
Consider these facts (Source):
Claimed businesses grew to 1 million.
Nielsen Study reveals 4 out of 5 Yelp users stop by before making local purchases
93% say visiting Yelp leads to a local purchase. Note: this 93% includes those who respond always, frequently, or occasionally.
82% of users said they visit Yelp because they intend to buy a product or service.
89% indicate they typically make a purchase within a week from the businesses they find on Yelp.
What Makes Yelp Useful for Local Business Marketing?
44% say reviews are most important
26% say ratings
17% number of reviews
14% reviews written by someone they know (S0urce)
Yelp users have helped drive foot traffic into everything from dentists to day spas according to a Nielsen blog post. Consumers access the site across multiple devices specifically to access the ratings and reviews. Those accessing the site from a mobile device are slightly more likely to take action.
Nielsen found that online reviews in general are among most trusted information sources for consumers. 70% find online opinions somewhat or completely trustworthy.
So clearly Yelp is driving traffic and buying behaviors.
How Can You Leverage Yelp?
Before going any further, keep in mind the first and most important consideration is your product or service. Yelp will only amplify your offering. If you are aware of complaint or concern patterns, fix these if you haven't already. You need to understand you may encounter negative reviews so be prepared and committed to address these. In my Amy's Bakery: More Than a Social Media Lesson, I go into more detail.
The first step is claiming your business. Next you'll want to optimize your listing by filling out as much information as you possibly can. If you don't have some appealing photos of your business, take some and list them.
Here is a resource that will guide you through the process of claiming and optimizing your listing.
Optimizing your Yelp profile, especially for mobile marketing best practices, will help your online presence since Google is now taking into consideration ratings and reviews in their local search results. Now that you have claimed and optimized your Yelp presence, keep an eye on it. In fact, it's a good idea to listen to the online conversation. Here are 5 steps to a better social media monitoring plan to help you.