Hire Strategic Marketing Solutions to Be Your Integrated Marketing Partner
Strategic Marketing Solutions specializes in: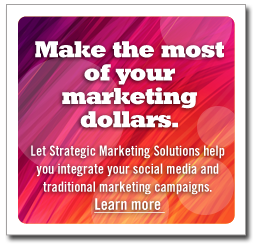 Integrated Marketing Services
Data Driven Marketing Solutions
Online Marketing Strategies and Tactics
Relationship Marketing solutions
Solutions for internal alignment challenges
Are you a small-to-mid-sized business (SMB) that has a Web presence that isn't working hard enough for you?
Whether you're in a marketing department that serves a global corporate body who needs an extra hand, or a small-business owner with a full plate trying to keep your ship afloat, we can help you.
We help marketers whose plates are often overloaded and who need a helping hand; we offer invaluable assistance to the savvy professionals who aren't quite sure how they'll get it all accomplished with only 24 hours in a day.
We're experienced marketing professionals who get it…we know your pain. We combine the thinking with the doing, thoughtfully planning a marketing program that is tailored to your business, with the marketing mix that works best for your target. We strive to develop plans that aren't just "good enough." Our goal is to provide the best plan for your needs.
We are a nimble operation, allowing us flexibility. Flexibility to give you an extra set of hands—on the days that your hands are just too full.
We exist to be in partnership.
We strive for thoughtful business relationships. Not just one-time transactions or stop-gap bandages that'll just have to be replaced tomorrow.
Need help with your marketing strategies? Let's have a conversation and see if we might be a fit to be your integrated marketing solutions provider. Just click the button below to get started.