Traditional Marketing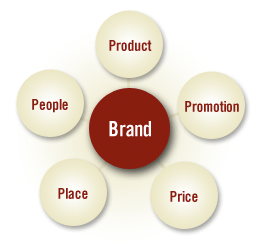 Traditional Marketing Strategies and the 4P's–or are there 5?
Traditional marketing has always been defined by the 4P's–Product, Promotion, Price and Place. Traditional marketing techniques typically focus on identifying the right audience segment, understanding their behavior, and providing the proper incentive to get them to buy a product or service, and in addition, there is the location or channel consideration. Sound familiar?
In the past, marketers were limited to one-way broadcast media. The goal was to use the proper media mix to deliver as many impressions as possible, providing the right promotional incentive to get the consumer to buy the product or service. With the advent of Google, the increasing penetration of smartphones, and the proliferation of social media platforms – marketers now face a daunting array of possible options. It now has been suggested that marketers add a fifth "P" – for People – to the mix.

Advantages of Traditional Marketing
Identifying and understanding your target audience is still the key to marketing success. Many traditional marketing techniques remain appropriate. Audience segmentation is one example. Marketers can identify ways to provide a relevant and meaningful customer experience by creating segments for a number of components like:
audience composition
buying behavior
geography
events
Do you have a current and precise overview of your target audience so that you can create a persona? The first step is to know your customer so that you can tailor relevant messages, offers and content to them, taking into consideration the media preference of your audience throughout an entire lifecycle.
Traditional Marketing 2013
With defined audience segmentation and on target offers, traditional marketing is still very effective when acquiring some customer segments. Traditional marketing strategies offer an effective way to deliver content to current and prospective customers, and can become a catalyst to drive your web site along other traffic marketing assets. This traditional marketing approach is often referred to as "push" marketing.
Promotions and offers are still important pieces in the marketing mix, but in 2013, content is a new form of currency. Instead of relying solely on coupons and price discounts, marketers can offer valuable information that consumers will find relevant and engaging.
Delivering the right message through the proper channel is more important than ever. Traditional marketing strategies still work as they expand to incorporate more options.
Strategic Marketing Solutions Can Help
Here's how Strategic Marketing Solutions can help with your traditional marketing strategies:
Identify your target audience.
Creating relevant content that will optimized the customer experience.
Select channels for delivery including Email and/or Direct Mail.
Develop a variety of marketing materials for the selected channels
Test messages and then measure results.