What is Online Marketing?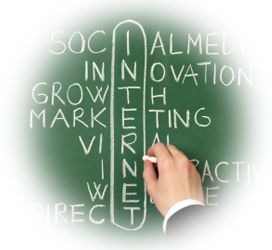 Online marketing is the art & science of selling products and services over digital networks such as the Internet & cellular phone networks. –Susan Ward about.com
Online marketing strategy must address the evolving needs of an increasingly ubiquitous audience. Companies face significant challenges identifying and responding to the needs and expectations of a new breed of consumer. We believe the changes in the marketing landscape offer new opportunities for marketers.
Effective online marketing solutions require alignment across all customer touchpoints. With access to information and social sharing networks, consumers now expect companies to listen, adapt and respond to their needs across all channels.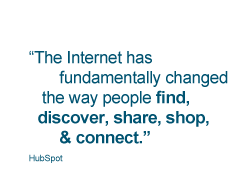 What are Online Marketing Assets?
Online marketing assets by definition deliver content via digital or cellular networks. With the rapid pace of technological and social innovation, it's important to keep the focus on strategy – not tactics. At the same time, it's important to always be exploring relevant ways to provide value to your customers and prospects.
Here are just a few examples of online assets you may want to consider:
Web site
Intranet
Mobile site
Email communications
Online Marketing Strategy Today
We believe the web site should be the anchor point of an online marketing strategy. At a minimum it must provide the basics like directions, hours of operation and product or service detail. Ideally you will want to leverage this very important asset by becoming a thought-leader in your field of expertise.
Online Marketing Consulting is a Necessity for Your Business
Online marketing solutions, like any marketing strategy, commence by revealing how online assets add value to consumers along the different phases of the buying cycle. Strategic Marketing Solution's assessment process exposes how the customer interfaces with your online assets. This knowledge helps marketers maximize the relationship between audience behaviors and utilization of online assets.
We help you create specific goals and objectives for each online asset. These goals must be specific and measurable. Avoid the temptation to begin with a tactic like "we need to be on (fill in the blank)." Unless you understand how the asset will add value to your audience, resist the temptation to jump online because the perceived cost is low. In fact often online assets may cost more than you think they will.
Online marketing consulting input starts with website assessment services designed to help clients' with decision-making that will affect lead generation. We can help you determine if your website needs a redesign, or if you need more support to enhance your site traffic.
Goals, Objectives & Online Marketing Solutions
Whether your web site needs a complete overhaul or just redesign services, we use a strategic approach, establishing goals and objectives to use as benchmarks for measuring success. Establishing metric benchmarks is key to evaluating and adapting marketing communications, offers and messaging. Metrics inform effectiveness of marketing and reveals where and when to make adjustments. Our closed loop marketing method is a continual process of testing, evaluating and refining your marketing so you can achieve measurable marketing results.
Strategic Marketing Solutions Can Help Your Business Today
Here's how Strategic Marketing Solutions can help you with your Online Marketing Strategy. Using our online marketing consulting expertise we can:
Assess your current website and establish goals for it
Recommend enhancements to the design, functionality and content of your website
Assist in content development – help you become a thought leader using a content management strategy
Redesign or revamp your site
Measure results and act on them.